NeNe Leakes: Why 'The New Normal' Is Not Just 'The Gay Show'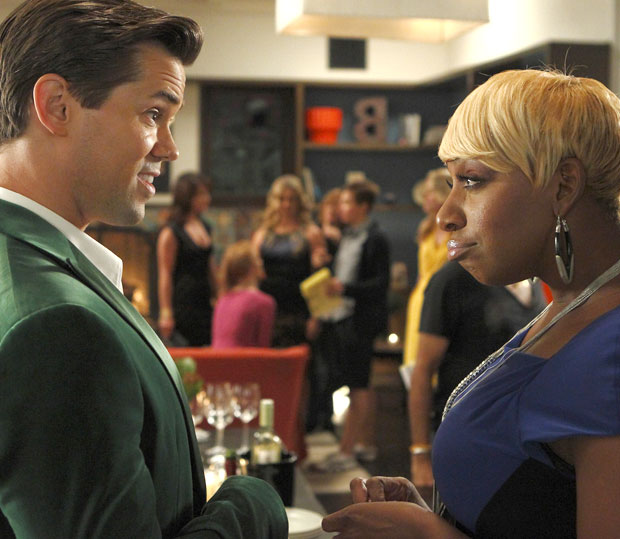 After a wildly entertaining guest stint on Glee as insult-hurling, Olympian-turned-swim-coach Roz Washington, Real Housewives of Atlanta star NeNe Leakes defied reality expectations and joined The New Normal as a regular, playing the wisecracking, fabulous Rocky. And when we caught up with the reality-star-slash-serious-actress before Tuesday's new episode of the series, "Nanagasm," Leakes had a lot to say about her new series. (After all, when has Leakes not had an opinion?) Read below to see our chat with Leakes, during which she discussed the future of The New Normal, what the show is really about, and what she thought when she first read the part of Rocky.
How did you get involved with The New Normal?
[Glee creator] Ryan Murphy interviewed me months ago and asked me if I would play Coach Roz Washington on Glee. And after that run, he asked me if I would do his new show called The New Normal and play the character Rocky, and of course I said yes.
What was your first impression of Rocky?
My first impression of this character is that it is for a white lady. The first time I read it, that's what I thought. You'll definitely see Rocky be a part of The New Normal more often and she definitely will change and we'll see more family members of Rocky's.
What can we look forward to on the show?
As the season goes on, you definitely can look forward to love, and comedy, and laughs. We're hoping that you see the whole cast evolve, so it's going to be an interesting season. We just want everybody to know that our show is about love. It's not "the gay show." It's about love, it's about comedy, it's about family. We talk about current issues, things that are happening right now. I'd like to see Rocky have a love interest, hopefully. I'll talk to the writers; hopefully they will find a love for Rocky.
And how do you feel about the reviews you've been getting?
I think we've been getting great reviews. I absolutely love the show. I don't want to be biased because I'm on the show, so I ask people who watch the show. People just walk up to me on the street and say, "Hey, I saw the show, I love that show." So I think we're going to do well.
Any chance of an encore performance on Glee?
I don't know that [I'll be back on Glee anytime soon]. Right now I'm currently shooting a new Real Housewives of Atlanta, and so we don't have a lot of time right now to squeeze Glee in, but we're hoping. Glee is just across the parking lot from The New Normal, so all they gotta do is call me and I can just walk over there.
[Photo Credit: NBC]
More:
Johnny Lewis, 'SOA' Star, Dies After Suspected Homicide — REPORT
'The X Factor' Recap: Miss Independent
Watch Sarah Jessica Parker Give Kurt on 'Glee' a Job He Doesn't Deserve