Netflix Must-Series: 'Coupling'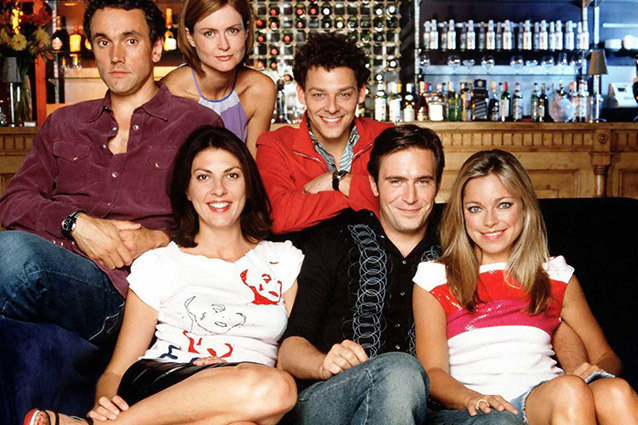 BBC
Coupling is often described as a British version of Friends. This is an affront to the amazing level of writing, humor, and acting talent of this Britcom. The series is semi-autobiographical, based on writer Steve Moffat's early relationship with his wife, producer Sue Vertue. Steve Taylor (Jack Davenport) has had a tough time dumping his clingy ex, Jane Christie (Gina Bellman). Susan Walker (Sarah Alexander) has just told her friend with benefits Patrick Maitland (Ben Miles) they haven't been exclusive. Steve meets Susan and sparks fly. With the addition of their best friends Jeff Murdock (Richard Coyle) and Sally Harper (Kate Isitt), the group form a circle of friends that deal with sex, relationships and everything in between.
Fans of shows like How I Met Your Mother and Happy Endings will appreciate not only the great comedic chemistry of the cast but the willingness to be frank about sex and relationships. The series has that unique British ability to be brazen and completely frank but still be polite about it. Fans of other popular British shows like Absolutely Fabulous, Men Behaving Badly, and Gavin & Stacy will appreciate this series' similar sense of humor. But what makes Coupling different is the way it plays with the sitcom form: Moffat, who went on to helm the current reboot of Doctor Who, based his scripts on clever metafictional ideas like doing the episode following Steve and Susan's breakup in split-screen, following both through their anger and recriminations until a reconciliation is achieved at the very end.
The actors are also really amazing. Many will remember Davenport from his attempts at American series like Swingtown, FlashForward and Smash. Alexander manages to be stunningly beautiful and hilariously funny. She popped up in a few American films like I Could Never Be Your Woman and Stardust. Gina Bellman also found huge success as a lead on the series Leverage.
Coupling brings laughter and sex together in a fun little package, no pun intended. Luckily, all four series of the British comedy are available on Netflix. Also, don't watch the short-lived American adaptation. It was awful.