Netflix Must-Series: 'Hotel Babylon'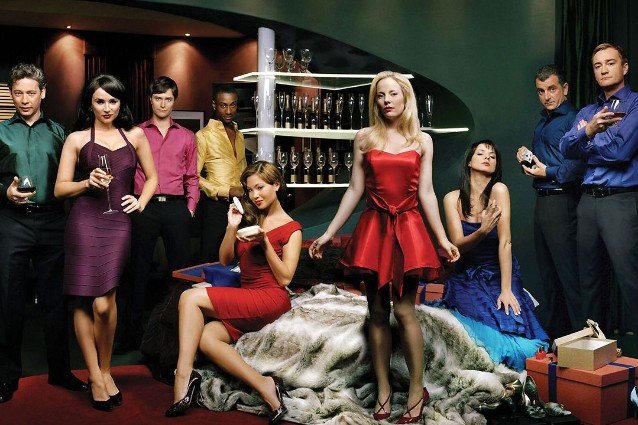 BBC One
Sometimes you just need some trashy television for frivolous watching. Hotel Babylon delivers that in spades. It blends the class struggles of Downton Abbey,  the sultry storylines of Melrose Place  and a ton of sexy Brits having sex. Despite its risqué subject matter, the show is still pretty lighthearted and down to earth.
The Hotel Babylon is a luxury 5-star hotel in the heart of London. Hotel Manager Rebecca Mitchell (Tamzin Outhwaite) is ballsy and obsessed with the job at the expense of her personal life. She hires Charlie Edwards (Max Beesley) to be her deputy manager. He's a good old boy who gets along with everyone on staff especially the ladies. Tony (Dexter Fletcher) is the head concierge and expert at dealing with unsavory characters and procuring blacklist items. Each episode, the hotel staff of oddballs and sexpots must deal with drama both inside and outside the hotel while managing the expectations of their high-end clientele. Whether they are getting vengeance on ornery guests, getting involved in the sexcapades of cheating guests, or just having fun, the staff provide hours of entertainment.
The show is the perfect blend of funny, sexy, and scandalous. Each episode has the perfect amount of drama and suspense to keep you watching. Workers in the business of keeping secrets are great at keeping their own. As the show progresses, you want to know more about the inner workings of the unique crew, including stunning social climber receptionist, Anna Thorton-Wilton (Emma Pierson).
Hotel Babylon  is shot in a fast and frenetic way. The colors are lush and there are tons of attractive people walking around. It captures some element of luxury and allows for some vicarious wish fulfillment. The cast is amazing. Beesley, best known for his role in Glitter, is great as the deliciously lower class Charlie. There are some pretty great guest stars, including appearances by John Barrowman (Torchwood), Anthony Head (Buffy the Vampire Slayer),  Paula Abdul and Joan Collins.
This series makes delightfully thoughtless binge watching. For a few hours you can shut off your brain and get caught in the sexy WTF moments and silly storylines of this British soap. All four series of Hotel Babylon  are available on Netflix streaming.