Netflix Must-Series: 'Slings and Arrows'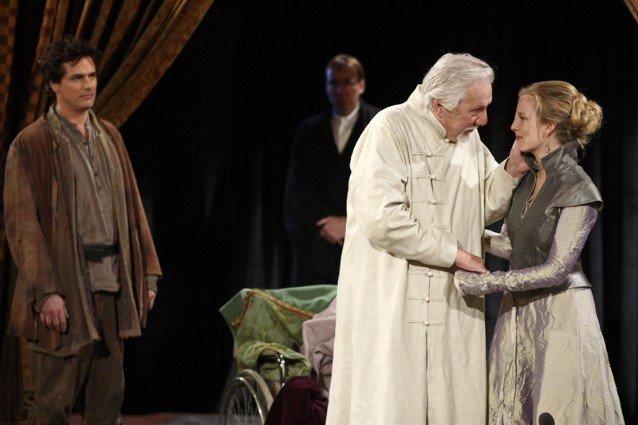 Showcase
They say it's the golden era of TV – what with dramas like Mad Men and Homeland on the air (not to mention the recently dearly departed Breaking Bad), it's hard to argue with fact. But even with stiff competition from more recent critical darlings, Slings and Arrows (off the air for almost ten years now) is still one of the best TV shows I've ever seen.
Helmed by unstable artistic director Geoffrey Tennant (Paul Gross), ghost (yes, ghost) Oliver Wells (Stephen Ouimette), and resident diva Ellen Fanshaw (Martha Burns), the performances on this show are superb. Oh, and series writers Mark McKinney and Susan Coyne are equally blessed in acting gifts as they are in writing gifts (lucky bastards). You'll also want to look out for pre-fame Rachel McAdams taking her turn as Ophelia, Sarah Polley figuratively killin' it as Cordelia, and William Hutt literally killin' it as Lear.
Full of theater archetypes that you know and love/hate – the "ingénue" who chooses to play Ophelia as if she's stoned, the constantly harangued stage manager, and Darren Nichols, who perfectly embodies every pretentious douchebag director you ever saw (down to the ratty scarves and tinted, black-framed glasses) – Slings and Arrows is (probably literally) a laugh a minute.
And that's not even taking into account the way it deftly adapts some of Shakespeare's most loved plays: season one tackles Hamlet (cheer up, you melancholy Dane!), season two takes on the Scottish play, and the final season does King Lear (and no Lear is complete without a heroin-shooting lead actor, right?). The original tagline for the show was, "The real show is backstage," and it lives up that statement. The drama of the actors and production team mirrors, transforms – and dare I say, elevates? – Shakespeare's magic.
This show has an inherent beauty (not to mention a wonderful sense of humor) that everyone will be able to respond to. So queue up that Netflix Instant Watch!