Netflix Must-Series: The Groundbreaking Gay Drama 'Queer as Folk'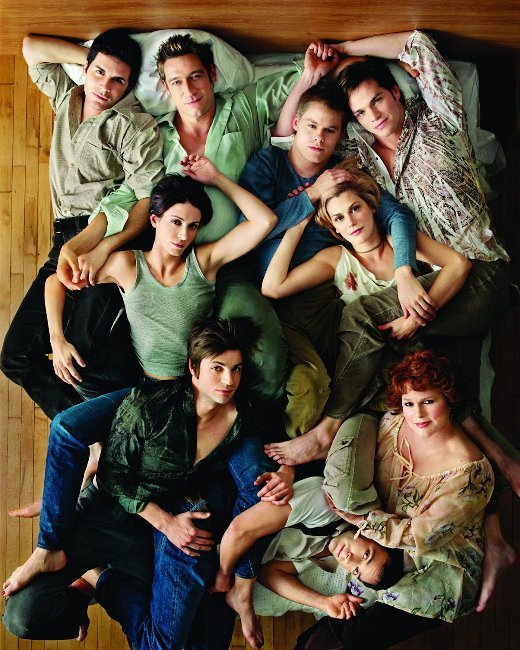 Showtime
In the 15 years ago since Queer as Folk premiered on Showtime, a great deal has changed in the depiction of gay characters and relationships on television. The modern classic series, which followed a circle of gay friends in working class Pittsburgh, was a definitively important elemenet in this shift, and stands as a precedent for today's more progressive programs like Looking, True Blood, and even Game of Thrones.
Queer as Folk showcased a bustling gay community that glorified sexual comfort. Comedian Hal Sparks played central character Michael who, along with his best friend/eternal crush Brian (Gale Harold), would try to navigate single life with a little help from their friends. Brian had a complicated life that included a teen paramour, Justin (Randy Harrison), a child with his lesbian friend Lindsay (Thea Gill), and an endless array of sex partners.
Despite having premiered a decade and a half ago, the series still stands up the test of time. It was cutting edge in exploring the issues of HIV, homophobia, and even auto-erotic asphyxiation on one occasion. The series shows the ups and downs of life, but with a particular sensitivity to the gay community, like finding a partner who is out, navigating open relationships, and handling dating someone who is HIV-positive. The series also has the kingpin of supportive TV parents in Debbie Novotny (Sharon Gless). There are also notable guest appearances by Rosie O'Donnell, Matt Battaglia, and Chris Potter.
Over the course of the five seasons the show was on the air, in managed to foster new attitudes toward the depiction of homosexuality in television. Queer as Folk showed that the gay community deserved to be included in our national pasttime of soapy WTF moments, cheesy storylines, and onscreen sexual charisma. The show might seem problematic by today's more progressive standars by portraying some corners of gay society as promiscuous, hard partying, and drugged up. But it did open up the doors so that all of the gay community could eventually find its way on television.
Check out Queer as Folk on Netflix.