Network Swap: What if 'Game of Thrones' Were On MTV?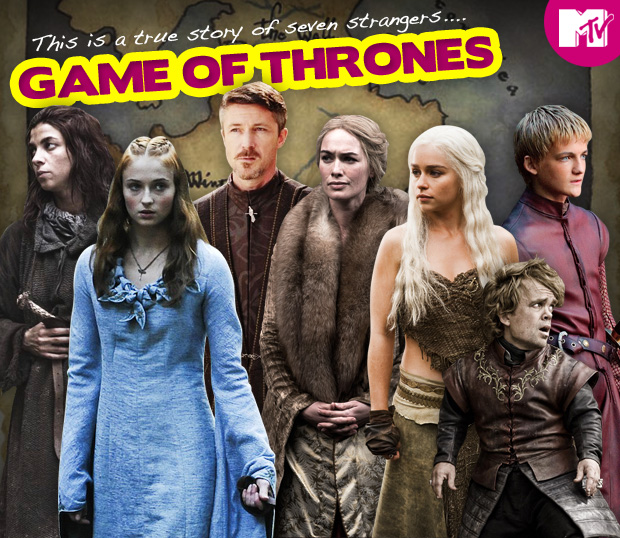 Our favorite shows feel perfect for their respective networks: The nude-friendly
Game of Thrones is a tried-and-true HBO series, the tortoise-slow Mad Men fits AMC's intelligent and patient viewers, and The Big Bang Theory never met a laugh track CBS didn't like. But what if those series appeared on different networks? How would the show change? We're exploring just that in our Network Swap series. Next up: What if Game of Thrones aired on MTV?
Series: Game of Thrones
Network: MTV
TV Rating: TV-14 for drama, faux-graphic situations and illicit activities.
Theme Song: "Some Nights" by fun.
Logline: From the creators of Skins and the producers of The Real World and The Hills comes a new kind of docu-reality to MTV: alternative medieval reality! Enter: Game of Thrones. Set in the universe known as Westeros, seven strangers (Osha, Petyr Baelish, Sansa Stark, Cersei Lannister, Daenerys Targaryen, Tyrion Lannister, Joffrey Baratheon) are plucked from obscurity and 2012 to time-travel to the land of the seven kingdoms to see what real life is like in a magical land at war.
Integrated into the Westeros reality, they'll live and eat with their respective family houses (Baratheon, Greyjoy, Lannister, Stark, Targaryen, Arryn), live in pre-selected kingdoms, and have their lives taped to find out what happens when people stop being polite and start being king. Game of Thrones tells the thrilling is-it-or-isn't-it unscripted reality of life in a time far different from our own. Here, magic still lives and your allies and your enemies are vital to the survival… of your social status! Pick the wrong side, and you'll end up with your head on a stake at King's Landing, which is totally uncool.
The show bends the limits of what is real and what isn't: are they really battling to the death to take over the throne? Are you serious right now with these zombies White Walkers? Did that teenager really just birth some dragons? Dealing with the limits of their own perception of reality coupled with the reality of their old lives from 2012, one can never be too sure. Rife with exposing confessionals, gritty real-life drama and dudes that can change their faces without a trip to the plastic surgeon's office (or did they?), MTV's Game of Thrones is one game that can't be missed.
Demographics: Tweens and twentysomethings that find a certain hilarity in the unscripted television of poor life decisions. Fans of magical realism.
Cast: Jon Snow as the hunky outsider, Daenerys Targaryen as the misunderstood girl with a drive to succeed, Theon Greyjoy as the explosive one, and Tyrion Lannister as the imp.
Breakout Star: Scrappy tween wunderkind Arya Stark.
Soundbite: "Yo, where the f**k my dragons at?!" – Daenerys Targaryen, 16-year-old teen mother of dragons, former high school dropout, aspiring queen of Westeros.
Sweeps Twist: Taking part in MTV's Musical May-hem, Game of Thrones transports your favorite artists to the fun in Westeros: Justin Bieber guest stars as King Joffrey's illest best friend. They drink hella mead and throw grapes at commoners through the castle windows. While searching for a way back to The Wall, Jon Snow stumbles upon a raging party deep in the woods, with Linkin Park performing for a group of young and ambitious White Walkers who just want to rock and are maybe anarchists. Katy Perry joins Daenerys Targaryen for a raucous and girly good time in Qarth, while Taylor Swift sings one of her signature break-up songs for the lovelorn Robb Stark because, OMG, lady drama!
Reason People Watch: Game of Thrones presents the real dog-eat-dog world of medieval politics in a universe flipped upside-down by warring young adults hell-bent on ruling their known world. Plus people are dying to know: Is it real, or isn't it?! Fans tune in weekly to dissect the possibilities.
What the Critics Say: "I don't know what to do with this." – Everyone
Spin-Off Possibilities: Cersei Lannister's late-night, no-holds-barred talk show called Wait, Cersei? will ruffle feathers for several seasons. Petyr Baelish becomes a Made coach, and MTV writes a scripted comedy based on the life of the house Stark called (you guessed it!) Stark: Raving Mad.
[Photo Credit: HBO]
Follow Alicia on Twitter @alicialutes
More:
TV Network Swap: What If 'Parks and Recreation' Were on CNN?
TV Network Swap: What if 'Louie' Were on The CW?