Network Swap: What if 'Two and a Half Men' Were On TLC?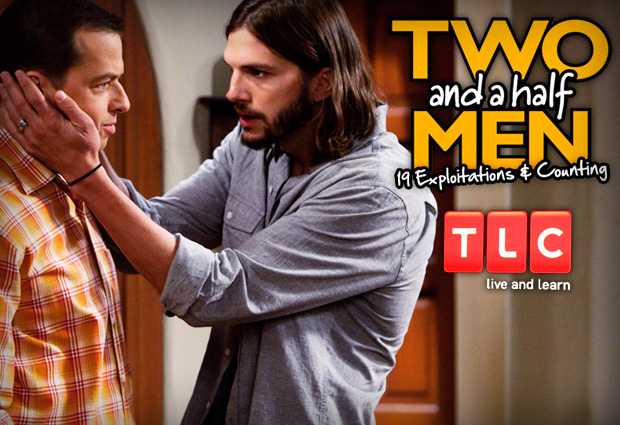 Our favorite shows feel perfect for their respective networks: The nude-friendly Game of Thrones is a tried-and-true HBO series, the tortoise-slow Mad Men fits AMC's intelligent and patient viewers, and The Big Bang Theory never met a laugh track CBS didn't like. But what if those series appeared on different networks? How would the show change? We're exploring just that in our Network Swap series. First up: What if Two and a Half Men aired on TLC?
Series: Two and a Half Men
Network: TLC
TV Rating: TV-14/TV-NWE. That last one stands for "Not While Eating," of course.
Logline: Two and a Half Men is an unprecedented new docu-soap that centers on Alan, a chiropractor with an addiction to eating sheetrock, and his roommate Walden, who copes with a 50-pound benign tumor on his hip with its own brain and set of teeth that he calls Charlie.
Setting: In a suburb outside Malibu, close but not too close to Ripley's Believe it or Not. Demographic: TLC's Two and a Half Men caters to the 18-49 demographic. Particularly 18-year-olds who trade off consuming Cheetos and cannabis, and49-year-olds who trade off working at Verizon and logging into their AOL accounts.
Pilot Plot: We meet Walden and Alan, who are swapping stories of their day over a nice meal of grilled chicken and dog house. Walden unsuccessfully heads to a bar with Charlie to pick up a goddess or two, while Alan contemplates the existence of Angus T. Jones.
Breakout Star: Unsurprisingly, Charlie now has his own Twitter account: "@HoneyBooBoo, holy s**t last night's Breaking Bad!!!"
Soundbite: "Charlie bit my finger!" suddenly takes on a more horrific tone.
SweepsTwist: Walden considers surgically parting with Charlie while Alan contemplates moving on to insulation.
Reason People Watch: Walden's self-effacing charm gives viewers reason to justify their horrific desire to exploit the less fortunate. Also, they're Joel McHale.
What the Critics Say: "Schadenfreude at its lowest."; "We've finally seen what's inside Charlie Sheen's brain, and it's hardly a win for this appalled spectator."; "A fascinating look at human's psychological dependence on things, regardless of tangibility… and will you please pass the Cheetos?"
Emmy Odds: Same as the odds of people admitting they watch Two and a Half Men: 5,000 to 1.
Spin-Off Possibilities: Walden is currently in negotiations for his own dating series on OWN called "Be Benign Mine," while Alan is in talks to star in an episode of Extreme Home Makeover after he finished his house for lunch.
Follow Kate on Twitter @HWKateWard
[Image Credit: CBS]
More:
Fall TV: Exclusive News, Interviews, and More!
What the F**k is a Honey Boo Boo?