The End of Spoilers? New App Filters Twitter to Keep Surprises Safe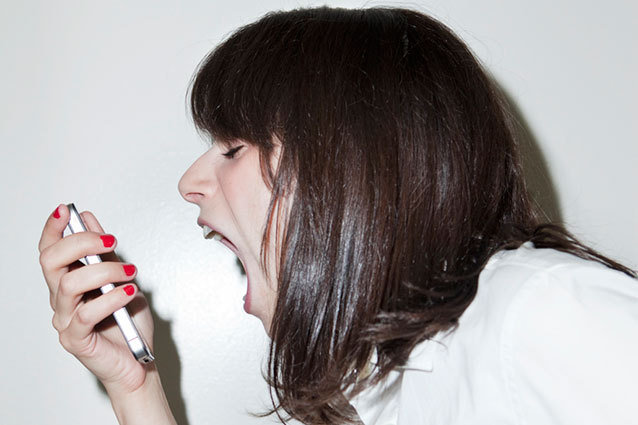 Was Ned Stark's fate on Game of Thrones spoiled for you? How about Shane Walsh's on The Walking Dead? And don't get even get us started on American Idol results. Odds are, if any of these were spoiled for you, it's due to one source. Gimme a T! Gimme a W! Gimme a…yeah, you know… Twitter. The social media platform works entirely at cross-purposes with all the other technology we've developed to prevent us from having to watch shows live. Weren't DVRs supposed to be the Great Pop Culture Emancipator? We'd still have all our appointment TV…but we could be the ones to set those appointments and watch at our leisure. Twitter demands that we watch TV now, now, now more vehemently than Abraham Lincoln. If we don't form an opinion right away, we're made to feel out of the loop. And if we still resist the urge to watch live TV, it's then ruined for us by all the people we're following telling us the most outrageous things that just happened, completely ruining it.
17-year-old Jennie Lamere has heard your cries of spoiler-induced outrage and developed a cure. Or rather, an app that eliminates designated words from Twitter for a certain period of time. The high school senior from Nashua, NH entered the TVnext Hack event in Boston April 27 and submitted for consideration a bit of software that took her only 10 hours and 150 lines of code to develop, according to Mother Jones. And guess what? She was the only woman in a competitive field of about 80, and the only person to design and execute an app all by herself. Paging Google, where she wants to work.
Furious Minds, a tech marketing company, wants to help Lamere develop a strategy for its eventual sale. Here's how it works: you download the app and install it for use on Google Chrome. That's currently the only browser for which it is functional. Then, when you're logged in to Twitter, you enter terms into a field that will prevent their display on your screen if included in a tweet. Say you don't want the terms "death," "brain matter," or "zombie kill," to appear in your Twitter feed when The Walking Dead airs. Lamere's app will not only cause those terms to evaporate but also censor the entire tweet surrounding those terms. Meaning that not even context clues will spoil your show for you. All that will remain of the original tweet is the sender's handle.
The freedom…it feels so heady and the app isn't even available for download yet! The only question now is, once you've been given your freedom what will you do with it?
Follow Christian Blauvelt on Twitter @Ctblauvelt
More:
Twitter #music Actually Has Really Weird Taste in Music
Does the New Subscription Service Mean the End of YouTube As We Know It?
Follow for LOLs! The Top 10 Fake Twitter Accounts of 2012
---
From Our Partners:


What Happened to 33 Child Stars (Celebuzz)


40 Most Revealing See-Through Red Carpet Looks (Vh1)