'New Girl' Is Back: How We Left Off With The Gang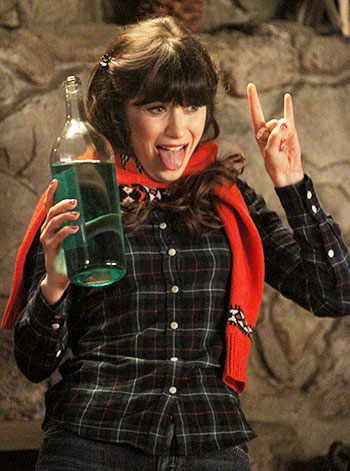 It's been a whole month — that's right, you heard me — a whole month since we last had a new episode of New Girl. So much has happened in that time. There was White Anglo Saxon Winter Privilege Night…Hanukkah…Moon Festival…the New Year. So many wonderful holidays we didn't get to spend with the people in our lives we love the most. No, not your real-life friends and loved ones — the fictitious Jess, Nick, Schmidt, Cece, and, okay sure, Winston.
But rejoice New Girl fans, the whole gang is back tonight and we can properly start 2013. If you're still nursing an office party hangover or blanked out from everything earlier than New Year's Eve, never fear, we're here to catch you back up to speed and jog your memory about how the show left off. Here's everything you need to know before the winter premiere of Season 2 of New Girl, you clowns.
Where We Left Off: After getting fired from her job, Jess (Zooey Deschanel) went and had herself a quarter-life crisis, one which included hooking up with a sexy doctor named Sam (David Walton). Though her feelings for him initially were stronger than his, Sam eventually came around and won Jess back on Christmas. Elsewhere, Nick (Jake Johnson) finished his wonderfully terrible zombie novel and started hooking up with a stripper named Angie (Olivia Munn) and Schmidt (Max Greenfield) tried to play coy around a newly-single Cece (Hannah Simeone). Oh, and Winston (Lamorne Morris) broke up with Shelby…and couldn't hear out of his ear for an episode. 
Biggest Jaw-Dropper Of The Fall: Wait, Sam is back?! After Jess had all but sworn him and other men like him off for good, he showed up all kind and sensitive at Christmastime and professed his true feelings. That said, Sam has never been a consistent character. What started as a Creed-worshipping doofus who is only looking for hot hookups has evolved into a sweet, caring pediatrician who just wants to settle down with the right girl. Is Jess that right girl? We'll find out soon enough. 
Biggest Let-Down Of The Fall: That New Girl started to venture dangerously out of smart, television for men and women and into anti-feminism territory thanks to outdated, offensive story lines about periods (they make women go crazy!) and ticking biological clocks. You're better than that, New Girl. 
Most Improved Character: Nick Miller, Nick Miller, the illest of the iller. Okay, maybe Nick hasn't improved overall, as he's still aimlessly floating through life, his dead-end job, and dating the wrong people (c'mon, Angie isn't exactly marriage material) but Jake Johnson continues to prove himself as a comedic force to be reckoned with. Nick may not be improving at the moment, but he most closely resembles someone we all know in real life. 
Least Improved Character: Schmidt and his total free fall into full-fledged douchebaggery. Look, don't get us wrong, we understand that Schmidt has been a douchebag all along. Hell, he's the very reason the Douchebag Jar was invented. But since breaking Cece's heart last year, Schmidt has turned from charming douchebag to near-sociopathic levels of mean. We realize it's just an act and he's really hurting deep down inside, but we were hoping for him to grow as a person just a little bit. 
5 Reasons You Should Keep Watching: Nelson Franklin (who played Cece's ex Robbie) is going to return to shake things up; speaking of guest stars, ultra-hottie Brooklyn Decker is stopping by; Schmidt may be a douche, but he still pronounces things hilariously; Jake Johnson is totally killing it; and finally, Winston might do something. 
What We Ultimately Want To See:
Who are we kidding? Jess and Nick together.
What Would Make Us Turn Our Backs: Another plot line revolving Jess having a "lady" dilemma of any sort. 
[Photo credit: Patrick McElhenney/FOX]
More:
'New Girl' Christmas Episode: A Winter Munn-derland
'New Girl' Star Max Greenfield: Is There Hope For Schmidt and Cece?
'The Mindy Project': Playing Doctor with Comedy's Golden Gal

Megan Fox's 12 Hottest Moments (Moviefone)

'Texas Chainsaw': Top 5 Leatherface Kills (Moviefone)