'New Girl' Scoop: Margo Martindale Reveals How There Might Be a 'Meeting of the Parents'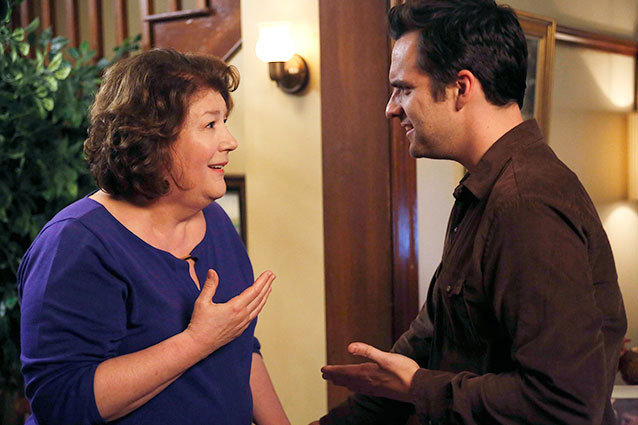 When New Girl fans met Nick Miller's mom Bonnie (Emmy-winner Margo Martindale) for the first time (we've overheard plenty of adorable phone calls in which he reassures his "Ma" he's alright) in the wonderful, bittersweet episode "Chicago," it wasn't under the happiest of circumstances. Her con artist husband Walt (Dennis Farina) passed away and Nick and his pals went to the crazy Miller household to pay their respects at his Elvis-themed funeral. 
At the end of the episode, Bonnie — who ultimately warmed to Jess (Zooey Deschanel) when she saw how much she and her son cared about each other — she pleaded with Nick to come home to Chicago more, if only so that she didn't have to only talk to her dopier son Jamie (Nick Kroll). Well, Bonnie and New Girl fans who want more of that crazy Miller brood may get their wish: Martindale told Hollywood.com that she and the New Girl writers are "all talking about" how to bring Bonnie back into the mix. And Walt, too?
Martindale caught up with Hollywood.com on the red carpet at the premiere of her new drama Bluebird at the Tribeca Film Festival on Thursday and revealed, "We were all talking about it. About maybe Dennis Farina('s character Walt) is not really dead, that he conned his death. And then we could have a meeting of the parents." The Millers meeting the Days (Jamie Lee Curtis and Rob Reiner)? We love it already. If only because their meeting would mean Nick and Jess would have a reason for their parents to meet!
Of course, getting to revive her role as Nick's mom on the series (which is already garnering her guest star Emmy buzz) has another pretty sweet incentive: getting to work with Jake Johnson again. "Isn't he cute? In person he's even cuter," Martindale said, adding, "He's such a wonderful actor. That whole cast is insane talent." One big, happy talented New Girl family. 
Follow Aly on Twitter @AlySemigran
More: 
'New Girl' Recap: Cece's Bachelorette Party and Nick's D**k Pic
'New Girl' Recap: Nick and Jess' Infinite Sexual Tension
'New Girl' Recap: A Death in the Family
---
From Our Partners


Stars Pose Naked for 'Allure' (Celebuzz)


Which Game of Thrones Actor Looks Least Like His Character? (Vulture)