'New Girl' Recap: Bad in Bed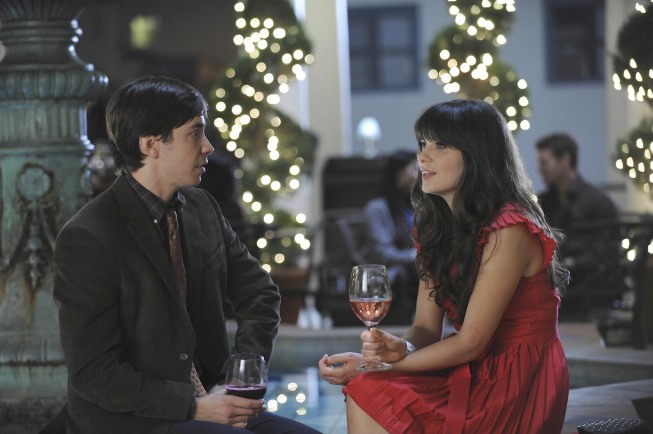 S1E8: I'm sorry, when did New Girl go from having the sexual capacity of Kenneth from 30 Rock to including discussions of S&M and pornography? And how did it do that and still manage to remain completely innocent? I guess that's what happens when you're the type of character who writes their own theme song. In all seriousness, Jess gets herself into some very skimpy, untraditional lingerie, some very hardcore pornography, and some incredibly personal sexual conversations with her roommates this week without ruining her childlike tendencies.
That being said, the episode was a little off, and both B plots seemed like throwaways. I had thought the series was growing after last week's foray away from Jess' issues and into the lives of her roommates. But it seems that the series is still a little green.
"Hey there, mister, turn around and lemme see your caboose." –Jess
Jess has finally reached the point in her relationship with Paul (Justin Long) when she's ready to have sex. The problem is, she's only slept with Spencer in the past six years and she's not quite sure she knows what she's doing. Plus, the fact that Spencer dumped her really shook her confidence in her abilities. Her first plan is to just buy a negligee that's little more than a game of cat's cradle, but when she accidentally opens Schmidt's laptop, her innocent eyes discover porn and she watches it for five hours – not because she's into it, but because she's fascinated at all the different moves the girls on the screen are using. I found this aspect of the episode particularly hilarious and brutally honest on the part of the writers. These sorts of storylines don't usually pop out of our brains independently of past experiences, which is an important factor that keeps this series from becoming irrelevant.
The rest of the episode gets a little cringe-worthy, with Jess telling Paul she loves porn and later attempting to be sexy and hardcore by choking him and scaring him half to death. But when he comes over the next day and he says he'll try the freaky sex things because he likes her, she admits it's not her thing either and then: boom. They have an adorable, innocent romp in the elevator – I'm not sure any other show in the history of television could have made me call elevator sex adorable, but there you have it.
"Is it because I'm the only man in the office?" -Schmidt
"Man? That's adorable." –his scheming coworker
Schmidt and Nick are dealing with their own issues this week, though I can't say they're that compelling. Nick has the most boring and character-draining story of them all: he won't get a haircut because he hates talking to hairdressers. Now look, I get it. It's sort of an awkward practice, you sit their while they snip away and you have to talk to them or suffer the silent, awkward consequences, but come on. It's like Nick is de-maturing with every episode. He waits all episode before finally going to Winston's barber shop, where he makes an ass out himself and ends up with an Arsenio Hall coif. I'd like to point out that Nick used to be my favorite character. Now, not so much. If they're going to delve into the self-loathing thing he's got going on, they need to make his stories a little more robust.
Schmidt, however, is still someone I can root for, despite the fact that everything he says merits a dollar in the douche bag jar – seriously, where did that go? He wants to best his conniving co-worker (Eva Amuri) and beat her to nabbing the corner cubicle, there's just one big problem. He's a guy in a company of all women – which isn't surprising in the least when you think about it. He practically invites himself to the Vice President's baby shower and just when you think his decision to go full frat boy in order to impress her is going to backfire, she loves every second of it – even the moment when he pushes her in the pool. I imagine this co-worker relationship is going to be drawn out a little more; hate often turns to affection and you don't cast Amuri unless you're going to put her to good use.
New Girl didn't fall completely off the wagon, but I thought it could do better. Perhaps this was just a little rough patch, and next week's Christmas episode will get back on track as easily as Jess and Paul did in the elevator.