'New Girl' Vs. 'Girls': The Birthday Episodes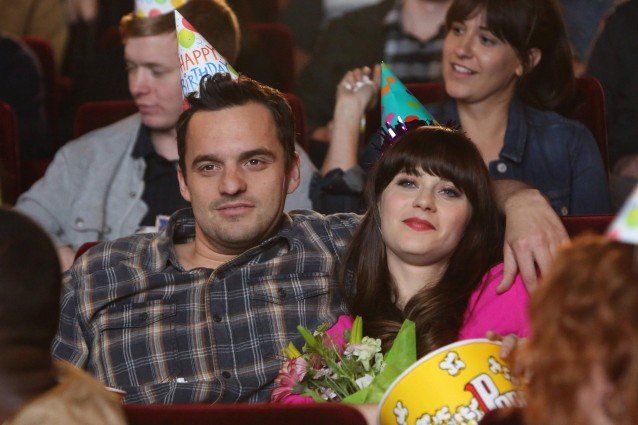 Patrick McElhenney/FOX
Maybe it's because they premiered within six months of each other, because they each gave a starring series role to an on-the-rise voice of female comedy, or — most simply, and most plausibly — because of the similarities of their titles. But New Girl and Girls have earned, and will continue to earn, comparison. "I'm not a big fan of Girls," someone will say, "but I do love New Girl!" And vice versa. In a lot of ways, the shows provide an antithesis of one another, and this has never been clearer than after this week's release of episodes for the HBO and Fox programs.
By coincidence, the latest episode for each show took the form of a birthday story, with each celebrating a "coming-of-age" for its main character. But of course, as anyone familiar with the diametrically opposite comedies would predict, the stories could not have been more different. Observe, and decide once and for all which camp you fall in (or, you know, cherish the disparate treasures of both, but that's less fun)…
NEW GIRL VS. GIRLS: THE BIRTHDAY EPISODE
Whose Birthday Was It?
New Girl: The incurably peppy protagonist Jessica Day (Zooey Deschanel).
Girls: The anxious, self-satisfied Hannah Horvath (Lena Dunham).
How Old Did She Turn?
New Girl: 33.
Girls: 25.
Was She Worried About Having a Bad Birthday?
New Girl: Yes. Jess admitted at the beginning of the episode that she always expects too much from her birthdays.
Girls: Yes. Hannah tells her boyfriend Adam (Adam Driver) that bad birthdays are "kind of her thing."
How Did She Spend the Day?
New Girl: By cooking an omelet, having sex, going to a drug store, walking around a park, crying on her couch, and going to the movies (where she was met by a surprise party).
Girls: By welcoming her boyfriend's lunatic sister (Gaby Hoffmann) into her home and then attending a bar party.
Where Was the Ultimate Celebration Held?
New Girl: A local Chicago movie theater.
Girls: Matchless, a real bar in Greenpoint, Brooklyn.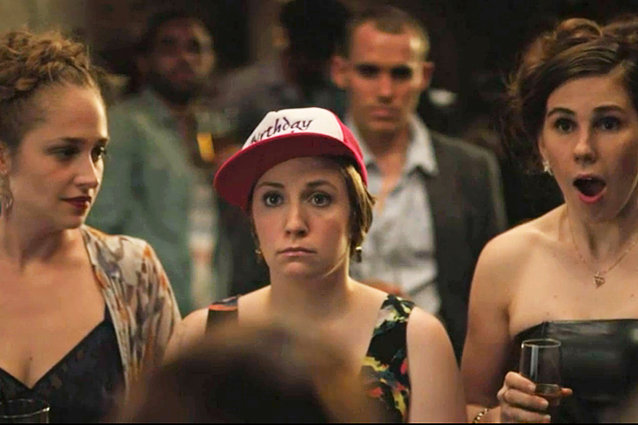 HBO
Who Organized the Party?
New Girl: Jess' loving but perpetually harried boyfriend Nick (Jake Johnson).
Girls: Hannah's emotionally destitute best friend Marnie (Allison Williams), funded by the Horvath parents (Becky Ann Baker and Peter Scolari).
What Is the Most Telling Representation of This Person's Feelings About the Birthday Girl?
New Girl: Nick loses his mind trying to make Jess happy, rallying everyone together to create a loving video tribute to his ladyfriend — an act that she deems the nicest thing anyone has ever done for her.
Girls: Marnie passive-aggressively insults Hannah's appearance, then forces her to sing a humiliating duet from Rent as a means of accessing her own long-gone glory days.
How Does the Birthday Girl React to Her Guests?
New Girl: Jess is thrilled to see that Cece (Hannah Simone), Schmidt (Max Greenfield), Winston (Lamorne Morris), Coach (Damon Wayans Jr.), and others have all taken the time to show her their affections.
Girls: Hannah offers disinterested greetings to just about everybody before retreating into a back room with Marnie, Jessa (Jemima Kirke), and Shoshanna (Zosia Mamet).
What About Her Parents?
New Girl: Although they can't be there, Jess' mom (Jamie Lee Curtis) and dad (Rob Reiner) showcase their boundless love for their daughter in video form.
Girls: Hannah's mom and dad travel to Brooklyn to pay for their daughter's party, and dance embarrassingly… okay, so this one isn't too negative! Although Hannah's dad does (unwittingly) kiss Adam's sister.
Are There Any Stories of Post-Breakup Heartbreak Going on in the Sidelines?
New Girl: Yes! Schmidt and Cece.
Girls: Yes! Shoshanna and Ray (Alex Karpovsky).
How Does That Go?
New Girl: After months of distance between them, Schmidt and Cece finally make headway in restoring their friendship when he helps her make an Old Fashioned.
Girls: Ray wallows in his misery, tells Shoshanna that he doesn't want to be friends with her, chastises her (passive-aggressively, of course) for smoking, and then gets into a fight with Hannah's manic editor (John Cameron Mitchell)
Are There Any Cantankerous Bar Employees?
New Girl: Sure! The goofy, hilarious Ben Falcone plays a bartender who hates Cece.
Girls: Yep! A Matchless DJ fights with Ray after he sullenly accosts her for turning off his song ("Today" by the Smashing Pumpkins).
Does the Birthday Girl Have a Moment with Her Boyfriend at the End of the Episode?
New Girl: Of course. Jess thanks Nick for giving her the sweetest birthday present she might ever have asked for, and they express their love for one another.
Girls: Of course. After Adam's nutty sister crushes a glass in her hand, he and Hannah sit on their shared bed solemnly.
What Note Does the Episode End On?
New Girl: Heartwarming.
Girls: Chilling. Unsettling. Bizarre.
Oh, Does Anyone Walk Away from an Exploding Car?
New Girl: Yes, Schmidt.
Girls: No, sadly.
Happy birthday, New Girl! And happy nihilism, Girls.