Why the SUNY Binghamton Shout-out in 'New Girl' Is Important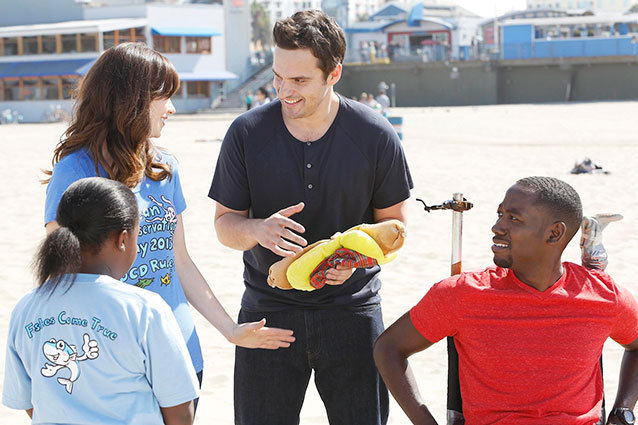 FOX
On this week's New Girl, Schmidt seeks the counsel of Outdoor Dave in a quest to conquer his agonizing loneliness. After breaking up with Cece early this season and moving out of the loft a few weeks back — and being replaced by returning series regular Coach — Schmidt feels like a man without a country. As such, he finds solace in the words of a man without an anything: the recurring homeless wackadoo who pops up every so often to impart bouts of chaos into the lives of the loft residents. His wisdom, as we might have expected, is marginal at best… but he does offer something noteworthy, that being mention of Connor — an action figure bearing the likeness of Jesus, who Outdoor Dave claims is a graduate of SUNY Binghamton.
Go Bearcats.
Yes. I, too, am a Binghamton alum. And for those of us who spent our formative years at little known state schools, it's a rare treat to hear shout-outs like this one (be they disparaging or otherwise) on network TV shows. The program that made the closest thing to a habit out of the practice was 30 Rock, a mighty knight whose sole mission was the conquer the realm of oscure humor… I recall one pointed jab that Will Arnett's devilish Devon Banks made at SUNY Oneonta. Ha ha, got 'em. Otsego County goons.
Now, this particular gag might seem like little more than a gift to the men and women who once attended what a 2014 U.S. News survey ranked as the 97th best higher education facility in the nation. But it's emanant of something more important: New Girl's penchant for intimate, offbeat, inimitable comedy. A type of comedy that has been slipping from the show's grasp lately. The Binghamton joke stands out especially in this week's episode, "Menus," which opens with a Nick-Jess dialogue that feels like it fell right out of a Family Matters teleplay:
To paraphrase:
Jess: "I can't stop to watch you eat Chinese food, which is apparently going to be your plotline today. I have a meeting with Booger from Revenge of the Nerds, who is my boss."
To quote directly:
Nick: "I hate your boss. He never listens to any of your ideas!"
Jess: "Not this time!"
And while the "if it ain't broke, don't fix it" motto might apply to some formulaic sitcom mechanisms, the opening to "Menus" feels so abrasively lazy and phoned in that it sort of sets the entire episode off on a sour path. And nothing ever really convinces us to change our tunes. Jess, spurned by her principal's insistence that the school can't afford transportation to send her students on their very first trip to the beach, goes ape on a nearby Chinese restaurant for their proclivity for littering apartment buildings with a surplus of menus. And yes, that was a Seinfeld episode they decided was too uninteresting to actually air.
Meanwhile, Nick takes on a B-plot that we've suffered through in every sitcom from I Love Lucy to Family Ties to The Millers, probably: he tries to get in shape. So it's a half-hour of Jake Johnson not being good at jumping. This one must have been scripted when all of the writers wanted to jet out early to catch a showing of Gravity. 
Peering through this haze of mediocrity is Schmidt's conversation with Outdoor Dave, which, though not especially hilarious, is evocative of the New Girl personality. It's grounded in a vivid place — a weird, sad, charming, real place. And a quirky one, unashamed of jokes that only a handful of people will truly appreciate, knowing the power in intimate writing. That's what we used to see in New Girl: scripts that were asymmetrical, uncategorizable, and personal. We need more of that. More episodes like Season 1's "Injured," or Season 2's "Chicago." More weird stuff, small stuff, personal stuff, and more jokes like Outdoor Dave's crack about Binghamton.
Go Bearcats.