'New Girl' Recap: What's Fluff Got To Do With It?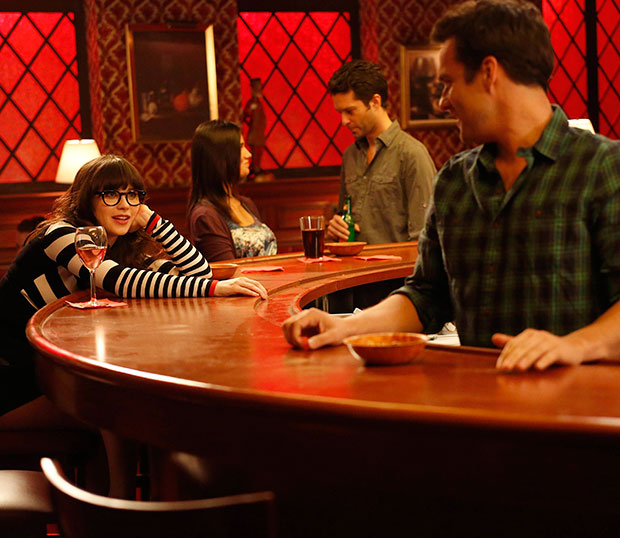 When it comes to the classic will they/won't they television couples (Jim and Pam, Sam and Diane, Mulder and Scully), one thing is certain before they eventually get together: There will be a lot of longing glances shared with unspoken declarations of love in their eyes. 
And while
New Girl
's Jess and Nick follow a lot of the same rules that their googly-eyed television ancestors set for them (first and foremost, they're friends with an unmistakable, often flirtatious bond), they are doing something that sets them apart from the rest and breaking the mold: They
talk
. Like, actually talk, not in code. They talk like honest friends — who may or may not want to have sex with each other and secretly be in love — would talk. 
Where others TV couples carefully play their cards close to the chest, Jess (
Zooey Deschanel
, earning her stripes as one of today's funniest primetime stars) and Nick (the cuter-by-the-week
Jake Johnson
) say
exactly
what they're feeling about each other. In fact, they probably say too much and they usually scream it at each other. If that's not
true
love, I don't know what is. 
Tonight was a big episode for Nick and Jess, though — sorry
shippers
 — you probably didn't get what you were hoping for. Yet. It all started when Jess, new to the casual sex game, came to Nick for advice on how to use Sam (guest star
David Walton
) for his sole purpose. Coloring with crayons! Well, that and some hot NSA nookie. 
Panicked that she was going to ruin things for good with Sam after a ho-hum night together ("We laid there like two old people in The Notebook… waiting to die"), Schmidt suggests all the fellas in the loft take Jess on a date test run. Despite Nick's reservations and failed attempts at getting out of it (that zombie novel isn't going to write itself, people), Schmidt reminds him of an indisputable fact: "Friends help friends get meaningless sex." Only problem was, Schmidt didn't heed his own friend code and ditched the "date" to hit up the club/stalk Cece with Winston by his side. (But more on that in a bit!) 
That left a va-va-va-voom-y Jess and a very Nick-y Nick ("This place is fancy and I don't know which fork to kill myself with") alone for the evening at a nice restaurant. Their banter was effortless, fun, and flirty. ("He's got a job, too? Poke a hole in that condom.") Their drinks, flowing and free… because Jess packed a cooler filled inexplicably with white wine. It was everything a great date should be. Only, at the end of a truly great date, the two people tend to have sex with each other, not take off to boink a boneheaded hottie named Sam. 
After a satisfying night of said boinking, Jess asks Nick to go with her to Ikea. (Have these two learned absolutely nothing from
other sitcom couples
?) Something is very wrong with this picture, indeed. Only neither Jess, nor Nick notice it. Winston, however, does. See! He serves a purpose on this show! Sort of. Winston quickly advises Nick that he has become Jess' emotional fluffer. Hence the title of this episode, "Fluffer." 
Nick wines (well, she provides the wine) and dines (well, at least the "Add Onions" portion of the menu) while Jess and Sam reap all the benefits. It's an unnerving realization that leads the friends to have their worst fight yet. There was no cute butt shaking here. In fact, that only thing that went below the belt were their digs at one other. After Nick complained about his role in Jess' life as a "boyfriend without the rewards," there was no stopping either of them. Jess told Nick that though she hates his cheapness and his uncanny ability to sigh about everything, she has thought about him in the boyfriend way before. (It was, as it turns out, when Nick was having something of a mental breakdown while talking to a bowl of peanuts at his bar. It was also, as it turns out, one of the funniest flashbacks this show has done to date.) 
Still, after a night of self-loathing for Nick — and Jess' terrible actual date with Sam — the two emerged from their corners. Nick, despite being told otherwise by Winston, put together Jess' new Ikea dresser. Not because he loves her, but because, as he put it, "It's like high stakes Legos." The two friends have an honest and sincere chat about what exactly their blurry relationship/friendship is and establish some rules. That they can be two friends attracted to each other with no consequences who set their own rules. While that plan will likely fall spectacularly apart, I'll give Nick and Jess and the New Girl writers credit: They are certainly breaking the rules and it's about damn time. 
Alas, this wasn't an episode focused entirely on the fate and future of Nick and Jess. Schmidt, still clearly harboring feelings for Cece and her "memory foam" breasts, has become the new and improved Barney Stinson. (Which is good, too, considering
the How I Met Your Mother characters
have become all but insufferable.) In addition to his ongoing quest to become
Kanye West
's new BFF, Schmidt also pretended to be the (fictional) son of GOP candidate
Mitt Romney
: Tag/Tug Romney. It didn't take long for Schmidt Romney to be figured out by a group of sorority girls, but we figured out something new about Schmidt last night: He, like fellow sitcom playboy Barney Stinson, has some daddy issues, too. Schmidt opened up about how his father abandoned him and started a new family, causing him to always look for a father figure. Don't worry,
Max Greenfield
, maybe the Emmys won't get it wrong next year. 
Oh yeah, and Winston (and apparently his girlfriend, Shelby) was still there, too. 
Some of the other best lines from "Fluffer": 
"It's after Labor Day. I'm wearin' whales!" —Schmidt, bustin' out his Kanye-inspired whale belt
"Befriending Kanye is the most efficient way for me to jump social strata." —Schmidt
"I took Winston with me to prove I can be friends with black people." —Schmidt, about Winston. (So that's what he's on the show for!)
"Whoa, I forget what you look like when you're not dressed like a loft troll." —Nick, to Jess on their "date" 
"I'm sure it's like the real Olympics, only the white people win the sprints." —Schmidt, thinking about the Romney Olympics 
"Nickels are worse than no money!" —Jess, to serial crappy tipper Nick 
"Being brown, you have the wisdom of a thousand white women." —Schmidt to his goddess Cece
"No picnics, no mini muffins, no Adele" —Winston, on things platonic male and female friends cannot share
Bonus best moment(s): Nick's "sexy mix," which includes Paul Simon's "Call Me Al," and the fact that he ties his robe together with an actual rope. Jess, if you don't snag him up, I will. 
What did you think of last night's episode of New Girl? Are you still holding out for Nick and Jess despite how they defined their friendship? How about Schmidt and Cece? Didn't the fact that she served no real purpose in the episode than to reconnect with Schmidt (with no new boyfriend in sight) means they're bound to be back within the next few episodes? Share your thoughts in the comments section below.
[Photo credit: Fox] 
More: