'New Girl' Star Max Greenfield: Is There Hope For Schmidt and CeCe?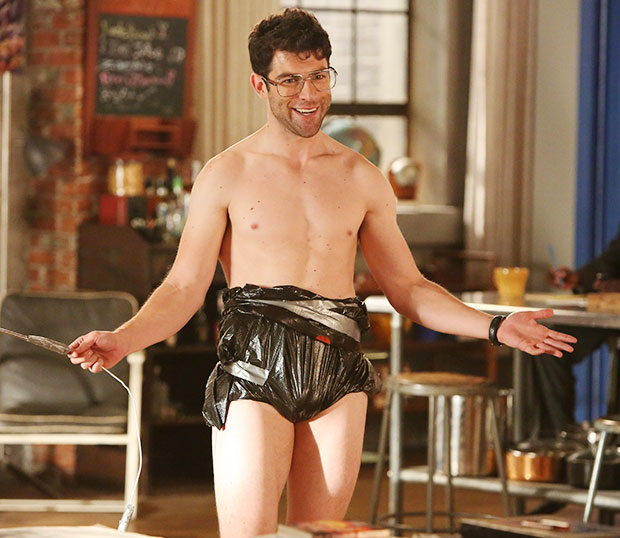 Faster than you can say "chut-en-ee," New Girl is going to be back in our lives, and with that delicious concoction of weirdos comes everyone's favorite douchebag, Schmidt (Max Greenfield). The Emmy-nominated (and now Golden Globe-nominated) actor hopped on a conference call with reporters to tease the second half of Season 2, and according to him, the saga of Cece and Schmidt is nowhere near over.
At the end of the Christmas episode, we found Cece allowing her mother to set her up on a blind date so she can presumably meet a nice, successful man to give her a house and lots of babies now that her biological clock driving her to desperate lengths. But is this the end of Cece and Schmidt? Don't count on it.
"It seems as though he'll go after her, he'll totally screw it up, and then they'll find a place in friendship and once they're settled into like a normal like friend relationship, he'll feel the need to then go after her again," says Greenfield. So the tortuous back and forth is here to stay? "Oh yeah," adds Greenfield in a tone not unlike the Kool-aid man.
Of course, knowing ol' Schmidty, there will be loads of screw-ups along the way. "He's uncomfortable in his own skin and as a result puts a little too much effort into everything," says the Golden Globe nominee. And while he may be unlucky in love, Schmidt knows where to draw the line: no Valentine's Day love-seeking for this guy. "It's for amateurs," says Greenfield as his TV alter ego.
But Schmidt may be changing his tune. Cece's affair with the fresh-pressed-linens-lover isn't the only love story coming back to the show, Greenfield also teased that Nelson Franklin, who played Cece's boyfriend (and the bane of Schmidt's existence) Robby during the first half of Season 2, will return in the near future.
However, even if his love life onscreen doesn't exactly go the way of so many romantic sunsets, Greenfield will get his own happy ending at the Golden Globes on Jan. 13. "I like to dress up, I like to put on a spiffy outfit. I look forward to when the show starts to end and you can loosen up the bowtie … like you're in the movie Diner," he says. But trophy or no trophy, it's a win for the gracious actor: "You get to celebrate that you have a job and you're working … but I plan on dancing quite a bit." Just how much is he planning on dancing? "I just have some party moves, straight up party moves," he jokes. Now that's a Globes party we'd like to get in on. Anyone need a plus one?
New Girl returns to Fox Jan. 8 at 9 PM.
Follow Kelsea on Twitter @KelseaStahler
[Photo Credit: Adam Taylor/Fox]
More:
'New Girl' Christmas Episode: A Winter Munn-derland
Is 'New Girl' Going Anti-Feminist?
Does Fox's Ladies Night Have a Lady Problem?

'Buckwild' Stars Talk 'Jersey Shore' Comparisons: 'I Ain't Paying For No Tan' (EXCLUSIVE VIDEO) (Celebuzz)

Oscars 2013: Best Picture Race Is Down to 'Lincoln' Versus 'Zero Dark Thirty' (Moviefone)