The Least Normal Things About 'The New Normal': A Baby Is Born in the Back of a Car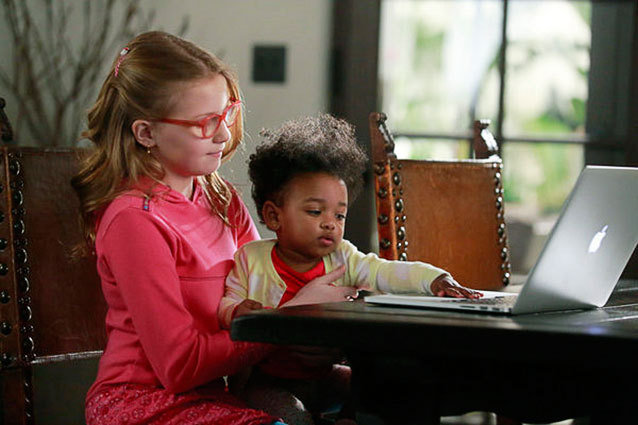 NBC's The New Normal Is a delightful show about a not very ordinary gay couple trying to have a surrogate daughter with a strange woman who has an oddball child and an unbelievably bigoted (and funny) grandmother. NeNe Leakes is also somehow involved. As much as it would like us to believe that this is the way the world works today, like most Ryan Murphy shows it is a celebration of the oddities within all of us. Therefore this weekly feature is both a celebration (and indictment) of all the abnormality contained within it.
Normal: Color coordination. Abnormal: A mauve on mauve shirt and sweater combination?
Normal: Modeling your life after Beyoncé. Abnormal: Modeling your baby's delivery after Beyoncé's, especially because she didn't even have that baby in the first place.
Normal: John Stamos smelling like musk, chocolate covered pretzels, and accomplishment. Abnormal: John Stamos smelling like peaches.
Normal: Chris Brown wanting to rehabilitate his image. Abnormal: Not even playing a transgendered soup kitchen employee would help him out. Super Normal: Glee would totally have a black, trans soup kitchen worker.
Least Normal Things About 'The New Normal': Can You Believe This Baby Shower?
Normal: A homosexual wanting to sleep with a fire man. Abnormal: A homosexual telling a room full of strangers that he is actually a fire man.
Normal: White people knowing how to do black hair. Abnormal: Please, no white person knows how to do black hair.
Normal: Straight people joking about a gay husband being a "wife." Abnormal: A skinny straight Indian doctor doing it five times in the space of three minutes and not getting punched in the face.
Normal: NeNe Leakes being hilarious playing her mother and her father. Abnormal: Thinking people can't see NeNe's beard wig is a total fake.
Normal: Wanting to record your baby's birth. Abnormal: The first time I see some picture of placenta on Instagram with a Sepia filter is the day that I shut off the Internet forever.
Least Normal Things About 'The New Normal': Shirtless Matt Bomer Edition
Normal: Going into birth unexpectedly. Abnormal: Having the baby in the back of a car. No one has ever had a baby in the back of the car outside of Look Who's Talking.
Normal: Making new friends at birth class. Abnormal: Them stopping by for advice and to show off their new baby and just generally try to be your friends.
Follow Brian Moylan on Twitter @BrianJMoylan
[Photo Credit: NBC]
---
You Might Also Like:


Topanga's Revealing Lingerie Shoot: Hello '90s!


25 Stars Before They Were Famous