New Syfy Show 'Defiance' is A Geek and Gamer's Dream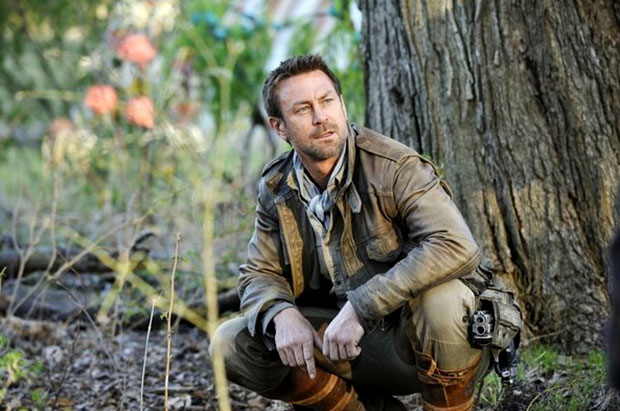 If you're a fan of Battlestar Galactica, video games, or anything and everything science fiction, then we've got a show for you! From the masterminds who brought you Battlestar Galactica and Farscape, Defiance is the newest drama to join the Syfy family.
Defiance is set in the not-too-distant future after an alien species named Votans come to earth in hopes of finding a new home following the destruction of their star system. After years of trying to negotiate with earth, the Votans declared war with the humans and triggered a terraformer technology that dramatically altered the biosphere and surface of the planet. Decades of war later, the humans and Votans no longer have any functional governments, and are doing their best to survive on their new alien planet.
Executive Producer Kevin Murphy tells reporters at the Television Critics Association on Monday that the world of Defiance centers heavily on Chief Lawkeeper Jeb Nolan (Grant Bowler) and his feral-like adopted alien daughter Irisa (Stephanie Leodindas). After surviving in the wild, Nolan returns to his hometown of St. Louis only to find that it has been reduced to a refugee camp called Defiance.
Leodindas says that their character's father/daughter relationship is "fiercely loyal," but also "fiery" at times. Bowler explains that his his character chooses to live in Defiance because he desperately wants his daughter to learn the traditional values and mannerisms of pre-war earth. "She needs to learn how to hold a knife and fork. She needs to learn how to go on a date with a boy without hurting him," Bowler says.
Murphy reveals that audiences will be introduced to eight species—including humans— that now inhabit the earth. In an interesting 21st century twist, Syfy is also offering viewers a chance to further explore the alien-filled planet in the Defiance videogame. Syfy President Mark Stern explains that with the show and the game, Defiance is the future of transmedia entertainment.
By playing the game and watching the show, fans will gather all the secrets of the world of Defiance. Stern was careful to explain that audiences do not need to use both mediums to enjoy Defiance. "It's not choose your own adventure… You do not need to know anything about one to enjoy the other." However, Murphy adds that of you follow both, fans will "get a richer, fuller, experience" and it will create "the illusion of spontaneity."
You can catch the series premiere of Defiance April 15 on Syfy.
Follow Leanne on Twitter @LeanneAguilera
[Photo Credit: Syfy]
MORE:
Justin Bieber Teases 'SNL' Hosting Gig With Very Important Tweet
'Happy Endings' Recap: 2013 Is Going to Be a Happy Year
'The Biggest Loser' Premiere: Are You Glad Jillian Michaels Is Back? — POLL

30 Hottest Lingerie Scenes from the Past 30 Years (Celebuzz)