New Year's 2013: What Specials to Watch Tonight and Marathons to Watch Tomorrow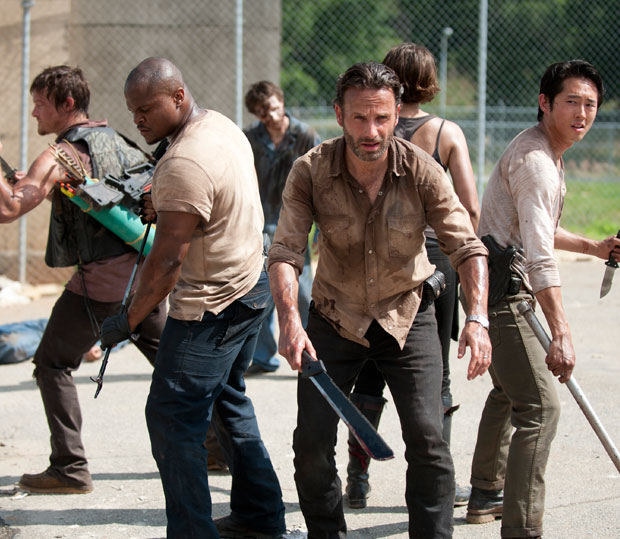 We all have our favorite New Year's Eve traditions. For some it's going out on the town for parties, champagne, and fireworks. For others, it's staying home with a special someone. And by "special someone" we mean "special someones." And by "special someones" we mean Anderson Cooper and Kathy Griffin. Here's a guide to tonight's "Ring In the New Year" specials and tomorrow's  marathons.
Ring in the Night
Dick Clark's New Year's Rockin' Eve 2013 (ABC, 10:00 p.m.-11:00 p.m., 11:30 p.m.-2:10 a.m.) The Auld Lang Syne institution Dick Clark founded in 1973 celebrates its 40th edition without its maker. Ryan Seacrest will officially inherit the mantle from Clark who died last April of a heart attack at 82. Performers include Justin Bieber, The Wanted, Pitbull, Flo Rida, Ellie Goulding, and Jason Aldean. Starting two hours before the main event at 8:00 is a two-hour tribute to Dick Clark and his television legacy.
New Year's Eve Live With Anderson Cooper and Kathy Griffin (CNN, 10:00 p.m.-1:00 a.m.) Cooper and Griffin trade barbs and the CNN Standards & Practices Dept. collectively cringes. Expect Tom Foreman to run with his daughter through Central Park at the stroke of midnight and extensive coverage of the dropping of Sushi the drag queen in Key West.
MTV's Club NYE 2013 (MTV, 11:00 p.m.-12:05 a.m.) Snooki and JWOWW oversee a tanned MTV New Year's party. Performers Ke$ha, Ne-Yo, Sean Kingston, and Rita Ora will try to sing over the one million Times Square attendees and Snooki's whine.
New Year's Eve With Carson Daly (NBC, 10:00 p.m.-12:30 a.m.) Daly pulls up his folding chair to the Times Square festivities.
During the Day
America's Next Top Model
(Oxygen 10am-10pm) If your 2013 resolution is to perfect the art of smizing, this will be the perfect marathon for you. Work it. 
Doomsday Preppers (Nat Geo, 8am): We survived Doomsday! Take that, Mayans! What better way to celebrate than by spending your time planted in front of the television to watch Doomsday Preppers? 
Fringe (Science, 10:30am) Still confused about what happened last night? Trying to figure out Fringe probably won't help matters much. 
Lost (G4, 10am-5pm) We have to go baaaaaaaack…to watching episodes of Lost. 
The Lying Game (ABC Family, 11:30am-5:30pm) Are those Pretty Little Liars not enough for you? Then be sure to check out what you've missed from The Lying Game, ABC Fam's latest hit that features another gaggle of attractive lying liars. Season 2 debuts on Jan. 8, so hurry up, already!
My Strange Addiction
(TLC, 11am- 6pm) Feel bad about all that hangover food you're wolfing down? Don't! At least you're not eating paper or glass like these folks!
Portlandia
(IFC, 6pm on Monday through 6pm on Tuesday) The 90s may still be alive in Portland, but
Portlandia
is alive and well in the 2000s. The quirky comedy favorite will play for 24 hours straight will give fans the chance to have a
Battlestar Gallactica
-like marathon of obsession. 
The Twilight Zone New Year's marathon (SyFy, 8am-4:30am, and on Tuesday, Jan. 1 from 6am-5am) This one is a yearly can't-miss. When else can you see Anthony sending people to the cornfield, the broken glasses of Henry Bemis, and those pig people all in one day?
The Walking Dead (AMC, 9pm-5am) Have you been missing out on The Walking Dead's best season yet? For shame! See what my husband Daryl Dixon and the rest of the gang are up to before the show returns (after an epic cliffhanger midseason-finale) on Feb. 10.
Hangover Cure
Bunheads (ABC Family, 11:00am-6:00pm) Fan of le dance? Well, ABC Family is running a marathon of the summer episodes of Bunheads, leading into the movie Dirty Dancing at 6:00pm, and the network TV premiere of Burlesque at 8:30pm, for a dance themed day — too bad you spent last night dancing the night away, right?
The Hangover
(TBS, 11am-8 pm) Pretty clever, TBS. Relive the unforgettable antics of the Wolf Pack on January 1. Maybe The Hangover will become to New Year's Day what A Christmas Story is to Christmas and it will soon play on a 24-hour loop. 
[Photo credit: AMC]
MORE:
Holiday TV Marathon Guide: What to Watch When Hanging Out With Family Becomes Unbearable
The Best and Worst TV Episodes of 2012—Staff Picks
Staff Picks: The 15 Best TV Shows of 2012 (And the 5 Worst)

Britney Spears to Be Fired From 'X Factor': Report

20 Hot (and Horrifying) TV Nude Scenes