Nicholas Sparks Brings His Romance to ABC with 'The Watchers'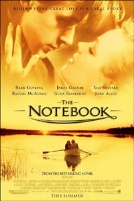 Nicholas Sparks. The man who branded Ryan Gosling a cinematic charmer with The Notebook. The man whose A Walk to Remember was the first movie date for the vast majority of my eighth grade class. The man who has painted every hopeless romantic's night with a hint of Rodanthe. And now, Sparks will be bringing his signature make-you-cry magic to television with a new series called The Watchers.
Sparks' story, which he sold to ABC to turn into a drama series, is about an angel who fell to Earth and is on a quest to find his one true love: a mortal human. Seriously, how Sparksy is that? Fans of the writers' films will not be disappointed with this new project—the premise alone is vibrant with his energy and style.
This will not take him away from his big screen. Sparks' 2010 novel Safe Haven is in development for a film adaptation.
Regarding The Watchers, Sparks told Deadline, "I've always wanted to create a smart, unconventional show about angels on Earth, and ABC is the perfect home for this kind of imaginative, character-driven drama." Well, Sparksfans, prepare for a tear-jerking, heart-melting, spirituality-reaffirming new series.
Source: Deadline