One of Showtime's 'Gigolos' Wants to Take You on A Date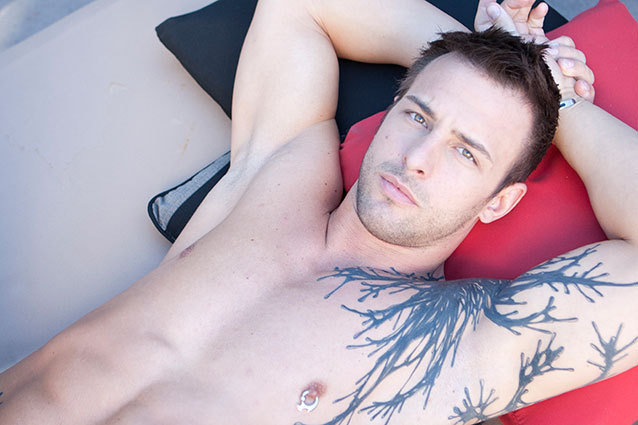 Ever want to date a gigolo but too cheap to pay for one? Like to win things? Enjoy sex toys? Well step right up, folks, because Las Vegas escort Nick Hawk from Showtime's Gigolos is here to answer all of your prayers. This hunk of man meat (if you're into dudes who wear tribal tattoo-inspired nipple rings) has aligned himself a Win A Date With Tad Hamilton -style contest in order to promote his 'Nick Hawk Gigolo Toy Collection,' which of course includes a genuine cast model of his junk (complete with moveable balls!). Why? Because this is America and no tacky decision should go undone.
Should you emerge victorious from the "Win a Date With Nick Hawk" contest, you will be wined, dined, treated like the VIP Las Vegas so expertly pretends you are, and pushed along afterwards with more than a few personal products (vibrators, dildos, and anal beads — oh my!) so that, should the night not go as one would expect, you can still get your rocks off in the hotel room. Thoughtful!
There's even a video, if you can stand the heat this Nick Hawk is emanating from his Ed Hardy-esque persona.
Something tells us you won't be encourage to guard your carnal treasure, since this is a gigolo we're talking about and not a fake movie star from a mediocre-at-best 2004 romantic comedy.
Follow @AliciaLutes on Twitter
More:
All The Ladies (Minus Amanda Seyfried) Get Naked for Allure
Miranda Kerr on Leaving Victoria's Secret
Amanda Bynes' New Nutso Duck Face Video
---
From Our Partners


Jessica Alba Bikinis in St. Barts (Celebuzz)


Which Game of Thrones Actor Looks Least Like His On-Screen Character? (Vulture)