Nick Kroll Says 'Kroll Show' is a Team Effort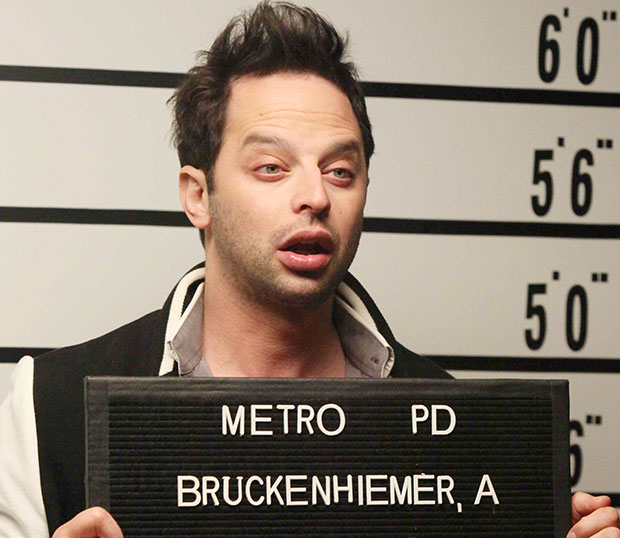 Just because Nick Kroll's new sketch show on Comedy Central is called Kroll Show doesn't mean the series isn't a team effort. "It's called Kroll Show, and obviously I'm in every sketch, but that just becomes the premise that ties everything together," the comedian tells Hollywood.com ahead of the series' Jan. 16 premiere. "Each sketch is me and Jenny Slate, me and John Mulaney, me and Fred Armisen, me and Andy Milonakis, me and whoever, so that in a way it becomes an ensemble. Really it's a showcase, and we're all equals in those sketches."
And that's not even including the three men Kroll collaborated with the most. "What I love about this show is between Johnathan Krisel, who directs it (Portlandia, Tim and Eric), John Levenstein (The Life and Times of Tim, Arrested Development) and Jon Daly, who's an actor and supervising producer, just amongst those three guys alone you have incredible comic minds who have a ton of say in what happens," he says. "I have the privilege of hiring or collaborating with people whose opinions I respect, and [whom] I will defer to."
The new show, which debuts at 10:30 p.m. following the Workaholics premiere, features Kroll and company in skits ranging from a Degrassi-esque Canadian kids show called Wheels Ontario, in which Kroll plays the new, able kid in school whose classmates are all in wheelchairs, to a reality TV spoof called PubLIZity in which he plays a vapid New York City publicist.
Don't worry, you'll see some returning favorites too: El Chupacabra and Bobby Bottleservice, among any others, will have their own segments on the new show too. Although he's got such a wide-ranging group of characters at the ready, Kroll says he can't pick a favorite. "It sounds cheesy but it's kind of whatever character I'm doing at that moment — partly because I don't shoot anything that I'm not already excited about, and then two, the beauty of doing a sketch show is that every three days it's something new," he says. "You're like alright, I've been getting into makeup as a woman for the past two days, my feet are f—ing killing me, and I'm super psyched to not be Liz anymore."
Much like Kroll's network mates in sketch, Key & Peele, Kroll is excited that the genre is making a comeback thanks to the Internet. "I think [Keegan Michael Key and Jordan Peele have] done an amazing job at paving the way for really smart, really well-executed sketch comedy. And yet what we're doing is going to be very different from what they've done," Kroll reveals. "But I think it's been really great for Comedy Central to see what they've done and for the audience to be excited about sketch again in the way they haven't on that network for a while."
Kroll Show airs Wednesday nights at 10:30 p.m. on Comedy Central.
Follow Jean on Twitter @hijean
[PHOTO CREDIT: Comedy Central]
More:
'Workaholics' Get Cuter, Weirder, Faster, Squishier in Season 3
'Workaholics' Seasons 4 and 5, 'Drunk History' Headed to Comedy Central
Web Comedy is the New Monty Pyton: Key and Peele Weigh In

Craziest Celebrity Swimsuits (Celebuzz)