'American Idol': Nicki Minaj Likes Devin Velez's Pianist (Or A Different Word That Fox Bleeped)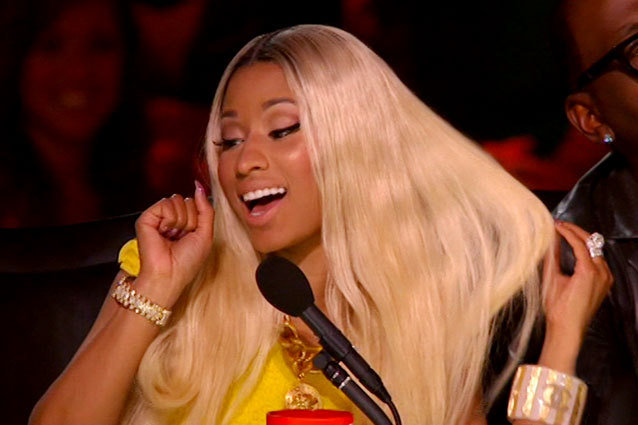 Nicki Minaj got very passionate during her critique of Devin Velez on the American Idol Top 9 performance show — but what did she exclaim that got her bleeped? Hollywood.com can report that from our seat in the Idol studio, nothing offensive came out of her mouth. It was just a slip of the tongue while shouting out the singer's backing band. Did you know that pianist sounds like another word when you say it out loud?
While you probably realized pianist's homophone in fourth grade, somehow Fox didn't deem it appropriate to broadcast to Idol's millions of viewers. Luckily, Velez took it in stride. The Chicago high-schooler found Minaj's blunder just as hilarious as the rest of the reporters talking to him about it backstage after the show. "I was like, 'What?!' I don't know when she's seen me playing my pianist," Velez jokes.
RELATED: 'Idol': Was Beatles Night Lazaro's Worst Performance?
Minaj is Idol's most unpredictable judge, after all. "Last week you were late because of 'traffic,' this week you're talking about my pianist," Velez says. "What's gonna happen next week?! I'm so scared."
One thing's for sure: the guys at military school are going to have a field day with this one long after Velez leaves the competition. "Oh my gosh," the high school senior sighs when thinking about his classmates' reaction. "I don't think you can see the pianist through these pants!"
Follow Jean on Twitter @hijean
[Photo Credit: Frank Micelotta/FOX]
---
You Might Also Like:


Topanga's Revealing Lingerie Shoot: Hello '90s!


25 Stars Before They Were Famous