Nicki Minaj on Her 'Idol' Feud With Mariah Carey: 'We're Both Crazy' — VIDEO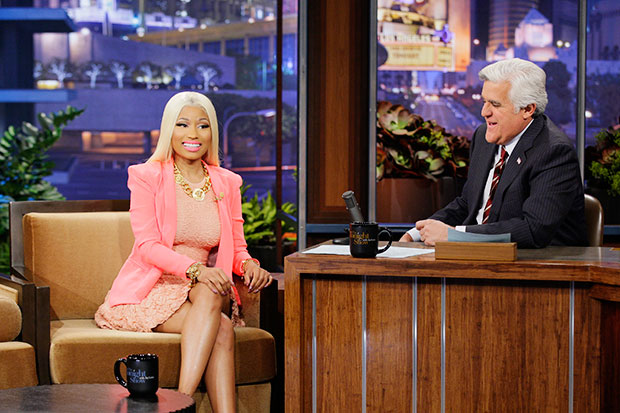 We'd better get used to it: the American Idol feud is an ever-present reality.
Nicki Minaj stopped by The Tonight Show with Jay Leno to chat about her new job as an Idol judge and of course, the accompanying "controversy."
"It's definitely not a fake feud," she says after Leno asked about how much the media has contributed to the now public arguments between Minaj and fellow judge Mariah Carey. "You gotta see it to get it. A lot of times it starts out that we're just joking, but we're passionate and we're both crazy and sometimes it just goes (cat sounds) and you can't really stop it," says Minaj.
The admission isn't all that surprising considering that both Carey and Minaj fanned the flames of the feud during the Idol TCA panel on Jan. 8. Carey referred to the group of judges as "strong personalities," noting that disagreements were inevitable, but by the end of the panel, both she and Minaj were already in disagreement over the fight that will live in infamy. To Carey's assertion that it was "one-sided," Minaj simply responded, "No it wasn't."
However, when Minaj had the chance to speak on her own, she made sure to emphasize that while she disagrees with Carey often, that isn't the whole story. "I'm one of her biggest fans," she says. And perhaps that fandom will find itself to the Idol stage in time for the live shows. According to Minaj, she's changing in 2013. "I wouldn't say I have a temper. I don't know … last year I did," she says. "In 2013, I'm on the road to recovery."
And that news couldn't be better. It's admittedly diverting to see these skirmishes during the Idol auditions circuit, which can start to drag around week three, but when it's time for the contestants to be the stars, we'd better be critiquing their voices and not the judges' arsenal of insults.
American Idol returns Jan. 16 at 8 PM ET on Fox.
Follow Kelsea on Twitter @KelseaStahler
[Photo Credit: NBC]
More:
How Nicki Minaj Vs. Mariah Carey Could Change 'Idol' Forever
Randy Jackson, 'American Idol' Is Nothing Like Picasso
'Idol' Promo Chooses Hope Over Infighting – VIDEO

Craziest Celebrity Swimsuits (Celebuzz)