No…I'm Batman! The Best 'Batman' Declaration Videos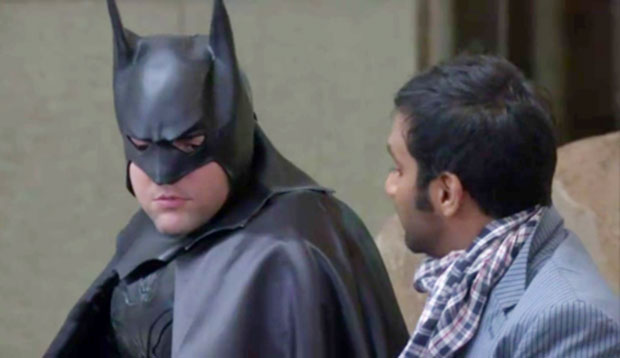 While only a few actors in Hollywood history have had the chance to say "I'm Batman" on screen (among them, Lewis G. Wilson, Robert Lowrey, Adam West, Michael Keaton, Val Kilmer, George Clooney, Christian Bale and the stars who have done voice work for the various animated Batman series') plenty others in pop culture have proudly made the claim. 
Like the Bat signal shining over Gotham, Batman and his oft self-boasting dialogue has left an indelible mark in pop culture. 
From Daffy Duck to Cosmo Kramer to Lady Gaga, the "I'm Batman" line has spanned every facet of the industry. Check out this supercut of everyone's favorite superhero identification — which features clips from the Batman movies and Batman-loving shows like Community — here: 
When Donna (Loretta) and Tom (Aziz Ansari) invited a heartbroken Ben (Adam Scott) along for Treat Yo Self 2011 on Parks and Recreation, he didn't exactly get into the spirit of things. But when they brought Batman into the picture, well, then they were speaking his language. Quite literally, actually, as Ben (who donned a full Batman costume, pictured) and Tom did their best growly Batman imitations. Enjoy: 
Speaking of TV nerds imitating their beloved caped crusader, the guys of The Big Bang Theory, particularly Jim Parson's Sheldon, can say "I'm Batman" like they really, truly mean it. Watch and learn how here:
 The Winchester boys have some super powers of their own on Supernatural, but they got into the superhero spirit of things in this classic moment: 
The Simpsons has been chock full of great Batman references and jokes over the years, but perhaps none better than Homer's accidental Batman declaration seen here. (In his defense, that cult's chant sounded an awful lot like the Batman theme song.) Da na na na na na na watch it!: 
What's your favorite pop culture "I'm Batman" proclamation? Does Sheldon from The Big Bang Theory do it best? How about Abed on Community? Or should it be left to the pros like Bale, Keaton, and, uh, Kilmer? Tell us in the Bat Cave, er, comments section! 
Follow Aly on Twitter @AlySemigran
More: 
Batman Beyond: The Dark Knight Rises and Rebooting the Caped Crusader