The Notorious B.I.G.'s Ghost Will Hypnotize You in New Cartoon Series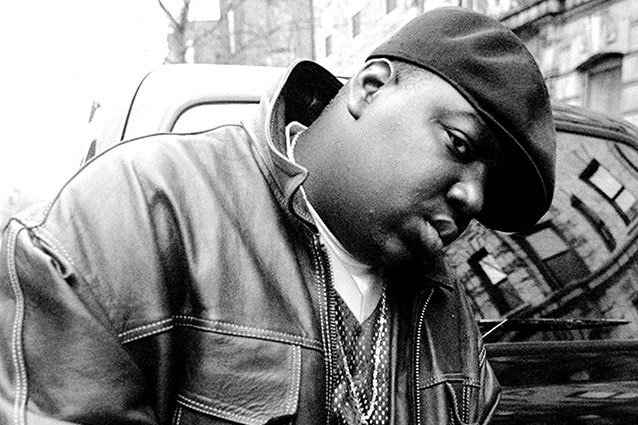 Sixteen years ago, Christopher Wallace, forever known as The Notorious B.I.G., was gunned down. But the basso profundo rapper's two seminal studio albums, arguably the apex of '90s hip-hop, have caused Biggie to live on.
Now, he's about to "live on" in a much more literal fashion — as the star of his own TV show, House of Wallace. Don't say "hologram" just yet. Following in the footsteps of The Beatles and The Jackson 5, Biggie is getting his own cartoon series. It's being produced by Ossian Media and will star the late Brooklyn MC's teenage children, 16-year-old C.J. Wallace and 19-year-old T'yanna Wallace, playing ink and paint versions of themselves as they fight to save their dad's Bed-Stuy recording studio from corporate takeover and financial oblivion. The mind-warping concept will actually have their father's "ghost" lending advice and inspiration to his kids — though who is voicing the rapper hasn't yet been announced. With Ghost Biggie's guidance, the kids will concoct a plan to make the studio a "jingle house by day" — so artists can lend their wattage to corporate brands — and a creativity-friendly powerhouse for musical innovation by night.
RELATED: Tupac at Coachella: The Greatest Holograms in History
C.J. and T'yanna are voicing themselves and House of Wallace — not currently tied to a network — may feature guest appearances from contemporary artists, who would create original songs for the show.
"It's been 16 years since our Dad was murdered and we miss him dearly. It is such an honor for us to be able to carry on his legacy, not only through his music but also by channeling him through our own creativity," C.J. and T'yanna said in a press release. "This project, House Of Wallace, is a great opportunity for us to bridge the gap between our parents, who loved his music, and the kids and young adults our ages that were not around to really appreciate it."
Are you sold? Or do think this is a tacky cash-in for the ages?
Follow Christian Blauvelt on Twitter @Ctblauvelt
[Photo Credit: Clarence Davis/NY Daily News Archive via Getty Images]
---
You Might Also Like:


8 Male Stars With Tramp Stamps


Stars Who Have Lost Roles For Being Too Hot (Celebuzz)