NYCC '12: Kevin Smith and the 'Comic Book Men' Cast Think the Nerds Have Finally Won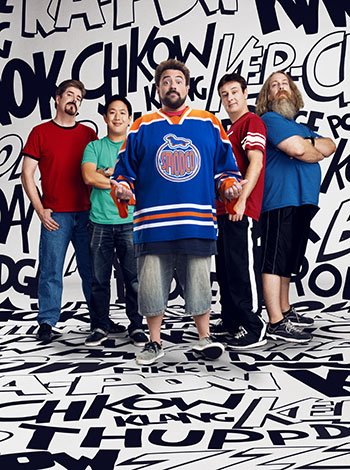 A show like AMC's Comic Book Men would never have even been considered for broadcast ten years ago — at least as far as series star Bryan Johnson is concerned — let alone attract the popularity that has spawned since its debut last year. But we live in a time when the nerds have risen up and taken their revenge. As proclaimed by Comic Book Men creator, accomplished filmmaker, and Hollywood's resident ambassador of the geek community Kevin Smith at the New York Comic Con panel for his AMC series, "We're no longer marginalized." It was a declaration that incited cheers among the crowd (a population naturally sympathetic to the plight of nerddom), which only erupted more vociferously when Smith concluded his thought: "We are the voice."
It's not only Comic Book Men that leads Smith to this perspective — as he and his longtime friends and collaborators, and the collective cast of his AMC program, Johnson, Walt Flanagan, Ming Chen, and Michael Zapcic summed up for all attendees, the near entirety of America's contemporary blockbusters are comic book-adapted properties.
Smith and his CBM team plugged the forthcoming second season, premiering Sunday night, with a video montage of highlights to yet come: a superhero wedding, a children's birthday party inside the Stash, a life sized model of the Millennium Falcon, and conversations about everything ranging from the best superhero accessories to interspecies erotica in fiction… not to mention a visit to the store by a comic book legend: the one Stan Lee. Flanagan told Hollywood.com that one of the properties he's most excited to see in Season 2 is Mecha Kong.
Following a technical malfunction that forced all five men to huddle around a single microphone, the gang began opening conversation on the journey they have taken together on the AMC series. Smith noted in particular the evolution of the public's opinion on Johnson, whom they affectionately/not-so-affectionately refer to as "Beard Guy."
At the dawn of the series, as Smith recalls, Comic Book Men viewers would storm social media with exclamatory remarks of, "I f***ing hate Beard Guy." After a few episodes had passed, the public began to give way to Johnson as a source of comedy: "Beard Guy says some funny s***." And the eventual complete 180: "I want to be Beard Guy," Smith claims a fan once posted online.
A good deal of the panel was occupied by the Men engaging in conversation about their favorite Batmobiles, (which ranged from the '40s Batmobile to Adam West's '66 version to the Michael Keaton Tumbler), to superheroes they'd most want to be (mentioned were Nightwing, Professor X, and Rick from The Walking Dead, a remark that Johnson followed up with a facetious plug: "This Sunday on AMC!"), but eventually the conversation turned to Smith's film career.
"My journey has kind of come to a close," the View Askewniverse creator stated, adding, "I will never make anything better than Red State." However, Smith did mention two titles presently in the works for him: the hockey film Hit Somebody, which he promises will take form once he edits the script down from 240 pages to 150, and Jay and Silent Bob's Super Groovy Cartoon Movie, which he will fund and tour himself. Although Smith affirmed that he "[doesn't] have anything new to say," he also promised that he will make "one more movie that will rap it all out." Something worth waiting for.
Comic Book Men's second season premieres Sunday, October 14 at 11:30 PM.
[Photo Credit: AMC]
More:
'The Walking Dead': Norman Reedus on the 'Season of Rage' and Merle's Return
NYCC '12: 'Robot Chicken' Renewed for 7th Season, Gives Ke$ha a 'Star Trek' Rap
NYCC 2012: Sean Astin on Why Elijah Wood Has It Easy in 'The Hobbit' Trilogy