NYCC 2012: Coulson Lives! Clark Gregg To Star On Marvel's 'S.H.I.E.L.D.' TV Series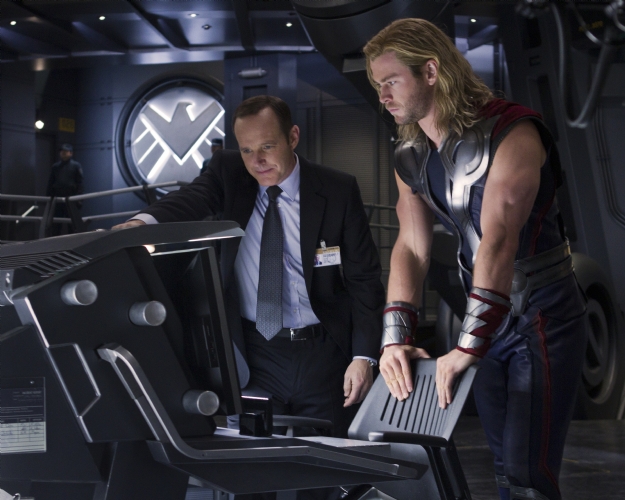 While Agent Phil Coulson likely won't be appearing in the upcoming Avengers sequel, it's, thankfully, not the last we'll see if the fan favorite character. It was announced today during the Marvel TV panel at New York Comic Con 2012 that actor Clark Gregg will be reprising his role as the beloved agent for Joss Whedon's upcoming ABC series S.H.I.E.L.D. All together now: Coulson lives! Coulson lives!
At the panel Jeph Loeb, the head of Marvel TV, introduced a video with Whedon and Marvel Studios President Kevin Feige making the official announcement to enthusiastic fans. "There was never going to be a S.H.I.E.L.D. show without Agent Phil Coulson," said Feige. Whedon added, "He's headlining the S.H.I.E.L.D. show and always was."
Gregg (pictured here with 
Avengers
 costar 
Chris Hemsworth
), who made a surprise appearance at the panel,
tweeted
his appreciation to fans who rallied to have him be part of the series. "thanks to the #CoulsonLives crew. You brought him back to life!!!!"
 S.H.I.E.L.D.
(which stands for Strategic Hazard Intervention Espionage Logistics Directorate) will be a live-action television series which takes place in Whedon's Avengers universe and will follow the law enforcement organization headed by Nick Fury. 
Additional reporting by Matt Patches.
[Photo credit: Walt Disney Pictures]
More: