NYCC 2012: 'Parks and Recreation' Cast Invades 'Childrens Hospital', 'NTSF'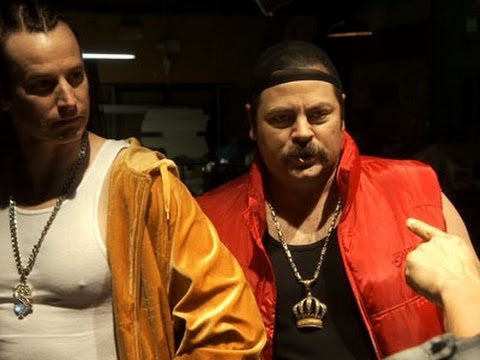 Pawnee isn't exactly the sort of place that breeds world-travelers. The residents of the sleepy Indiana town grow up there, live there, and generally remain there for their entire lives — or so we thought. The Parks and Recreation cast is exploring new realms, finding hospice in the likes of San Diego, and even Brazil, as three of the series' stars are set to appear on upcoming episodes of the Adult Swim series Childrens Hospital and NTSF:SD:SUV.
As attendees of the New York Comic Con Adult Swim panel (hosted by Childrens Hospital team Rob Corddry, David Wain, and Jonathan Stern, and NTSF's Paul Scheer and Curtis Gwinn) found out, Parks and Rec cast members Nick Offerman, Aubrey Plaza, and Aziz Ansari will be heading over to Cartoon Network's nighttime comedy series. During the upcoming season of Childrens Hospital, Offerman will reprise his recurring role as Detective Briggs, with a brand new mission to become a doctor (not to mention a fresh hearing impairment).
On NTSF, Plaza will appear as a "Rememberer," an allegedly prescient young woman who is hired by the team to help recall the events of a crime. Of course, her abilities might be somewhat exaggerated. Ansari will also make an appearance on NTSF, although his character has yet to be disclosed. There was even a Parks and Rec cameo in the panel itself: Jason Mantzoukas (Parks' Dennis Feinstein and The League's Rafi).
Among the other upcoming guest stars on Scheer's off-the-wall comedy series are Ray Liotta as an erratic mailroom employee, and TV legend Hal Linden and Rebecca Romijn as a sexually-charged couple.
Also announced in the panel: an NTSF Christmas special to air early in December, as well as an NTSF mock infomercial for a home security system and iPhone App that alerts you that your friends might be terrorists.
In terms of Childrens Hospital, Corddry revealed that the forthcoming episode on Thursday, October 19, would be chronicling a year in the life of the hospital staff. Additionally, the future of the show will feature a pretty one-sided knife fight between Dr. Blake Downs (Corddry) and Chief (Megan Mullally), and a Season 5 premiere that will delve into the back-story of Dr. Downs.
[Photo Credit: Adult Swim]
More:
NYCC 2012: 'Robot Chicken' Renewed for 7th Season, Gives Ke$ha a 'Star Trek' Rap
NYCC 2012: Sean Astin on Why Elijah Wood Has It Easy in 'The Hobbit' Trilogy
NYCC 2012: Kevin Smith and the 'Comic Book Men' Cast Think the Nerds Have Finally Won
From Our Partners:

'Paranormal Activity 4' Sneak Peek!
(Moviefone)

(Moviefone)