NYCC 2012: 'The Walking Dead' Panel Proves Little Ladies Love Chandler Riggs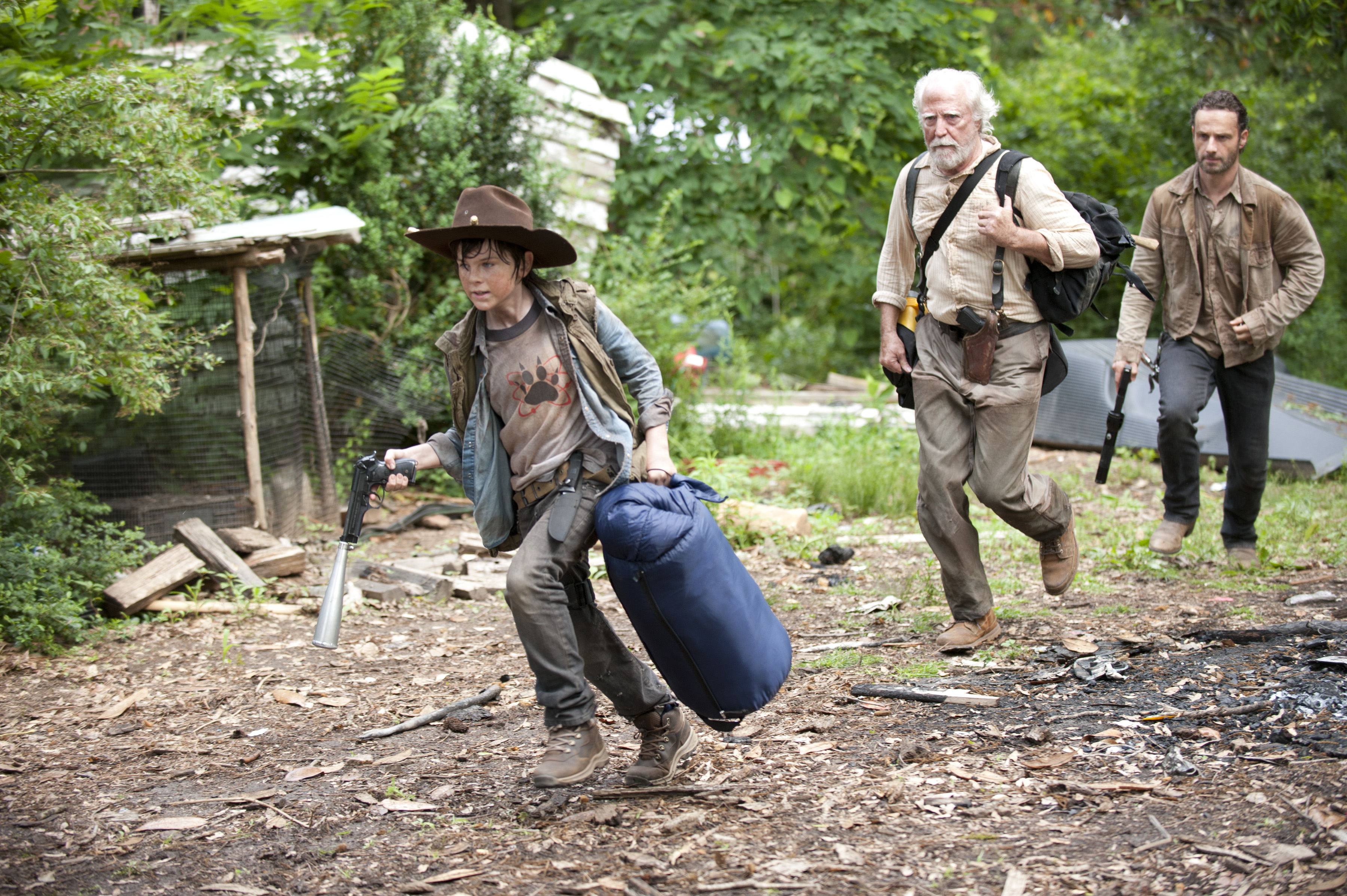 Last season on
The Walking Dead
, our characters did a lot of time thinking and waiting. Then, as the season wound down, the action ramped up, delivering deaths that no one saw coming and culminating in the burning of Hershel's precious barn as walkers swarmed the farm. And as Robert Kirkman told an excited crowd,"I think everyone would agree that after we ended the second season, backing off in any way would be a mistake."And he means it. "It's absolutely nonstop. All these guys are running around hacking zombies up and we're really coming back in a big way," he added minutes after the theater was treated to the first few minutes of Season 3, which saw the entire group slashing zombies (even the new and improved Carl).
In fact, the opening scene, in which no words were spoken as the group found a new home base and then immediately lost it to a herd of walkers, the killing is immediate and ruthless. And it only gets worse better. "There are more zombie kills in this episode than in the whole of Season 1," says Andrew Lincoln (Rick).
But with a panel of Lincoln, Kirkman, Executive Producer Gale Ann Hurd, Danai Gurira (Michonne), Chandler Riggs (Carl), Norman Reedus (Daryl), David Morissey (the Governor), Michael Rooker (Merle) and host like Nerdist and The Talking Dead's Chris Hardwick, the panel was an hour of dramatic and comedic gems.
What's happening to Rick this season?
"We found out what Rick's breaking point is this season," says Lincoln. But his changes weren't unjustified. "If you dont change you die … I'm going to the dark side this season … I go crazy, and I'm still kind of there," he adds.
Of course, there's that whole Shane issue to deal with. "It's a terrible loss when you lose great friends, I stabbed him the chest and my sons shoots him in the head … but it's about honoring thestory and keeping that true and real," says Lincoln.
So, where is Carl, anyway?
This season, we jump forward in time (Lori's pregnant belly tells us that) and "meet this group of people and they have evolved beyond all recognition, especially this guy here," says Lincoln as he points a Riggs. "Chandler Riggs is killing it, killing it this season."
And Riggs agrees. Carl has improved this season. "It's really cool for me to play more of a dark character. It's like playing two different characters from Season 2 to Season 3," says the ridiculously-articulate-for-a-13-year-old actor. And he's got the support of the cast, so go ahead and put away your "Where's Carl?" t-shirts (which he playful called out one Con-goer for wearing). "When someone asks 'where's Carl?' this time we can say, 'He's in the house. Killing zombies,'" says Hurd.
And if all that wasn't enough, Riggs certainly had the most ardent fans at the panel (even moreso than the woman who called Lincoln offstage to look at her leg tattoo… of his face). Three young girls came up to ask the young actor questions, one of which was one tinged with concern about his romantic potential on the show now that Carl's best friend Sophia is gone. Riggs upped the ante (and likely the crush-level of his young fans) when he teased, "Beth is 17 and Carl is 13. So we might see some of that."
And then there's Daryl, and his apparently intoxicating eyes.
Reedus' "lovely eyes" were a frequent topic of conversation during the panel, but Reedus was ther to talk about the fan favorite now that his brother Merle is back. "He would do anything to help keep these people alive, but he's been away from the enforcement of his big brother and they're both always looking for eachother and they love eachother … but this is his new family and he'd do anything to keep them alive," says Reedus, adding that this season, the "good Daryl" will certainly come into question.
But what about Mr. Lovely Eyes' love life? Reedus says not so much. "Daryl has no game. If there's going to be a kiss someone's going to have come at him … If it's before it's ready, he's just going to cry … I just cant see him cuddling," says Reedus.
And of course, we've got a few new folks
The panel also introduced us to Gurira and Morissey, who play new characters Michonne and the Governor. They're arguably two of the most anticipated characters to appear on the series so far. And Michonne is working this world in a way we didn't think was possible.
"It's been intense, brutal joy … she is a thriver … she's an intense chick," laughs Gurira. "That's so masterful on her part … she figures out that zombies are the lesser human form … and she figures out how to use them to her advantage," she adds. (In case you forgot, she totes around two armless, jawless walkers on chains as pets "that I don't have to pet or feed."
As for the Governor, if you ask Morissey, he's not half bad. While Reedus whispered "He's evil" into his mic, Morissey did his best to explain the Governor's motivations. "Woodbury is a great place if you abide by the rules. It's a secure place in a very insecure world," he says of the Governor's walker-less haven. "He's a leader that some people might recognize. He's a good guy. I love him. He's great," Morissey laughs. But if you're looking for a replica of the characterfrom the books, stop. "With all these characters, when you equate them to the comic book there's a sense that you're waiting for these scenes … but we're trying to get away from that," he says. And to be fair, that's what Kirkman has been saying for the past two seasons, so it's about time we get used to it.
From Our Partners:

'Paranormal Activity 4' Sneak Peek!
(Moviefone)

(Moviefone)