Olympics Round-Up: Disqualifications, World Records, and Scandal!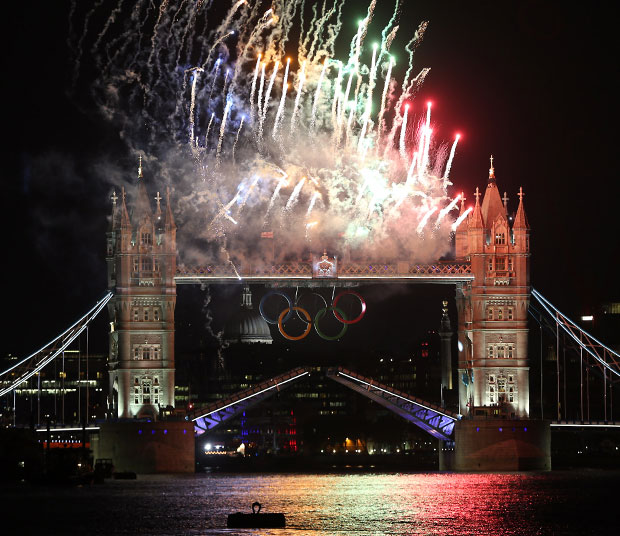 Olympics! Day five! Now that we're well into the thick of the games, the dramatic and soap opera-esque story lines begin to appear: and gee wilikers are they ever juicy! Tonight we've had some wins, some losses, some disqualifications and even a dared ill-word about Michael Phelps! The horror, the horror! Figurative fireworks out there tonight, folks. So let's get down to it, shall we?
Bad, bad, bad-minton: Anyone else ever have trouble spelling the word badminton? Words are hard, you guys! But what's easy is seeing how obviously a bunch of badminton players were trying to fix a match on the court today. I know! It's a bit shocking, really, that the medal-obsessed Chinese performed at any level other than perfection, but that they did. A pair of Chinese teammates (as well as two South Korean Pairs and an Indonesian pair) were said to have played so terribly that people were actually booing from the crowd. COLD, Olympic-goers! Apparently the South Koreans and Indonesian teams are appealing the decision, but China's in agreement with the call. In fact, they're planning to carry out their own investigation. Which, um, sounds terrifying coming from China. Check out the video here:
Death at the Olympics!: I know! Terrifying. [Insert Hunger Games joke here.] But the sad news is that a 28-year-old man was killed Wednesday when he collided with an Olympic media shuttle bus, officials said. (The victim was riding a bicycle at the time of the collision.) Metropolitan Police said a man in his mid-60s was arrested for allegedly causing the death due to reckless driving.
World Records Redux; Two world records were had at the Olympics today, and they were both in the pool. Hungarian Daniel Gyurta and Rebecca Soni of these United States both set the records in their respective swimming events. Happier news!
Phelpian Backstrokelash: So we know the fish also known as Michael Phelps is now the most decorated Olympian in the history of the games. Which is very, very impressive! Some would argue that it's so impressive that you could call Mr. Phelps the world's greatest Olympian. But one person who would not be saying that would be Sebastian Coe, the chairman of the London Olympic Games Organizing Committee. Say what? "You can say by medal tally, he is the most successful, but I'm not sure if he's the greatest. But he's the most successful athlete; that goes without saying." BOOHISS, Coe!
The Fab Five Get Tweeting: Did you know that the ladies of the US Olympic gymnastics teams got to talk to the President (aka Barack Obama) today? Of course they did! And they tweeted about it, too. Which was totally adorable. And then you realize some of the members of the team weren't even born when the last women's gymnastics team won the gold (in 1996) and you sort of start to despise them in that 'time is slipping away and I am as old as a Redwood Tree' sort of way. But then you see them tweeting with Lady Gaga and Taylor Swift and Justin Bieber and they all become charming again. Charming little flexible fetuses, aren't they?
CONGRATS to @mckaylamaroney @jordynmarie2013 @kyla_ross96 @aly_raisman @gabrielledoug on your GOLD MEDAL. #BeliebersWinGOLD #Proud …
— Justin Bieber (@justinbieber) August 1, 2012
Follow Alicia on Twitter @alicialutes
More:
Olympics Round-Up: Michael Phelps is a Golden God
Olympics Round-Up: Missy Franklin Nabs First Gold, Britain Gets Bronzed
Olympics Round-Up: World Record for Dana Vollmer, Hugs for Michelle Obama