Olympics Round-Up: Gabby Douglas and Other Team USA Dominations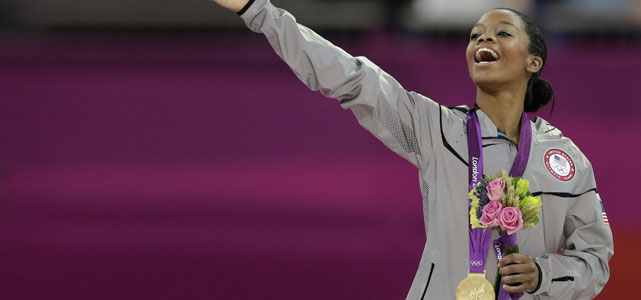 Day six! America, we are IN this Olympic thing like Flynn. Or something! Sports! Today's games brought along a lot of wins, which was nice after yesterday's bevy of controversy and bad luck. So let's get right into the good stuff, shall we? We don't want to leave you hanging anymore than you already are. So without further ado, your 2012 London Olympics Round-Up! Let's get golden!
The Flying Squirrel Strikes: Forget about Zooey Deschanel, the new girl on everyone's lips is totally Gabby Douglas, the first African-American woman to win the all-around gold medal. And since the fab five won the overall team medal the other day, we're thinking she's probably feeling pretty good right about now. Not to mention Gabby is so adorable, and her win made the entire country of the United States squeal with joy (I know, I heard it all the way here in Los Angeles! You're all very loud). We just love a warm-fuzzy moment like the one we got tonight. Warm hearts all around the world tonight, folks. Go Gabby Go!
Phelpsian Phirsts Continue: Here we go again! This boy just really likes to be the only one (or first) to do things, doesn't he? What a show-off! Michael Phelps went and made himself the first man to win the same individual event in three consecutive Olympics with a golden performance in the men's 200m individual medley. We get it, dude, you are a human fish and very impressive. We also heard you got a tweet from Lil Wayne, so, you know, you just keep winning, huh? Oh yeah, and Ryan Lochte came in second to nab the silver, so USA domination is in full effect!
World Record Domination: Look at us Americans! We are just a really impressive nation. Go on, brush your shoulders off. This time it was Rebecca Soni, who bested her own previous world record and won a gold medal in the process during the women's 200m breaststroke! Homegirl killed it with a time of 2:19.59. Daaaaang!
The Basketball Trail of Dead: Seriously, Team USA's basketball team is insane. They are literally destroying every team they come in contact with. Every single one! Like tonight, they scored an Olympic record 156 points in 40 minutes, winning against Nigeria by 83 points. 156 POINTS?! How is that even possible?! I don't even know what to say or do here. I am just so beyond impressed with every single American at the Olympics today that I have no words. They should just give these men the gold medal now and call it a day because…I mean, really? Is anyone else going to beat that? Come on now, let's think of the other teams' feelings for a minute here.
…OK, we know you want to say it. It's OK, we'll do it with you: USA! USA! USA! USA! First pump that s**t, you guys.
[Photo Credit: Gregory Bull/AP Photo]
Follow Alicia on Twitter @alicialutes
More:
Olympics Round-Up: Disqualifications, World Records, and Scandal!
Olympics Round-Up: Michael Phelps is a Golden God
Olympics Round-Up: Missy Franklin Nabs First Gold, Britain Gets Bronzed