Olympics Round-Up: Marijuana, a Walk-Off, and GOOOOAL!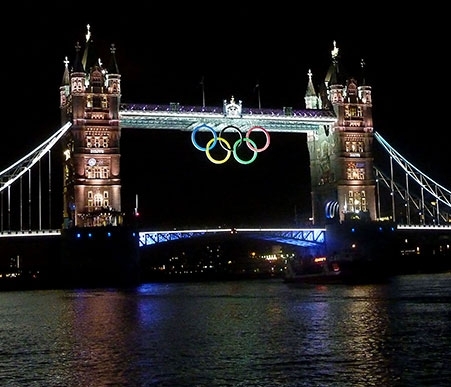 Wow! The Olympics seem to have hit a bit of a dramatic patch on day ten today, huh? Disqualifications, ejections, marijuana; oh my! And that's not even bringing into account the nail-biting things that happened ON the tracks and fields today. The Olympics were fielding more drama than a desperate housewife looking for screen time on Bravo. There were some golds, though the US is still behind (by one measly medal. Come on, America!) China in the overall medal count, but that doesn't make today's wins any less weighty. Lots of things went down, and even though it wasn't as golden as normal for our American athletes, it doesn't make the day any less interesting. Read on to see what sort of dramarama kept the Olympics afloat this Monday!
Pass the Dutchie On The DQ'd Side: Woops! American judo fighter Nick Delpopolo was removed from the Olympics for unintentionally eating that had been baked with marijuana. Delpopolo is the first of the 10,500 London Games athletes to fail an in-competition doping test. Which, Riiiiight …eating pot brownies is always something people do by accident. This is not a raucous frat boy comedy, Delpopolo. You should've chatted up Michael Phelps before you dove into the edibles, my dude. He could've really helped you out. I mean, allegedly. What? Who said that?!
O Canada…You Lost!: America's top hat was bested by the ladies of the US Soccer team today in a crazy-amazing match up that found the US coming up from behind to win 4 – 3. Superstar Alex Morgan didn't even realize she'd produced such an epic (and dramatic!) goals in the team's history until after the crowd and her team went totally bananas. Next up? A battle royale against Japan, who beat the ladies by mere penalty kicks during the World Cup. Go America!
Retiring in the Bronzed Age: Great Britain's most decorated gymnast Beth Tweddle had her final competition today before she heads off to retirement, and did so with a bronze medal on the uneven bars. Not to shabby, Tweddle!
Jump Around!: During the track and field events today, Jennifer Suhr of the United States won the gold in women's pole vault after throwing herself over the15 feet, 7 inch pole that stood between her and victory.
Steeplechaser Feelin' Stabby: Well this is awkward. Turns out that steeplechase gold medal winner Ezekiel Kemboi is under investigation on suspicion of allegedly attempting to stab a woman on a date before he left for London. Say what? Well there goes all those stereotypes about steeplechasers now! Right out the window, I tell ya!
Golden Oldies: After a fateful ride that broke his neck in an equestrian competition fall 12 years ago – Britain won its first Olympic show jumping gold medal in 60 years after Nick Skelton–who is 54!–won the gold. I say! Good show, my boy! Hip hip!
Walk It Off?: In erratic Olympian behavior news, Taoufik Makhloufi of Algeria–who, mind you was the 2011 African Games champion in the 800m race–stopped running in the middle of a race today. (It was coincidentally the 800m race he was running.) When Makhloufi stopped running in his opening Olympic heat on Monday, officials naturally became suspicious of his motives. He was at first disqualified and ejected from the games for not putting in an "honest effort" (which is a real rule in the Olympic rule book, its actually pretty cute if you think about it). Some speculated he was saving his energy for the 1,500m race, where he is a favorite to medal. According to Algeria though, this was not the case; rather he just hurt his knee. After some medical examinations, Makhloufi was reinstated in time for tomorrow's big 1,500m race. Be careful, my dude!
[Photo Credit: WENN.com]
Follow Alicia on Twitter @alicialutes
More:
Olympics Round-Up: Usain Boltin', Blade Runnin', and Andy Murray
Olympics Round-Up: It's So Hard to Say Goodbye to Michael Phelps
Olympics Round-Up: Teenagers, Twins, and One Undefeated Team