Olympics Round-Up: Michael Phelps is a Golden God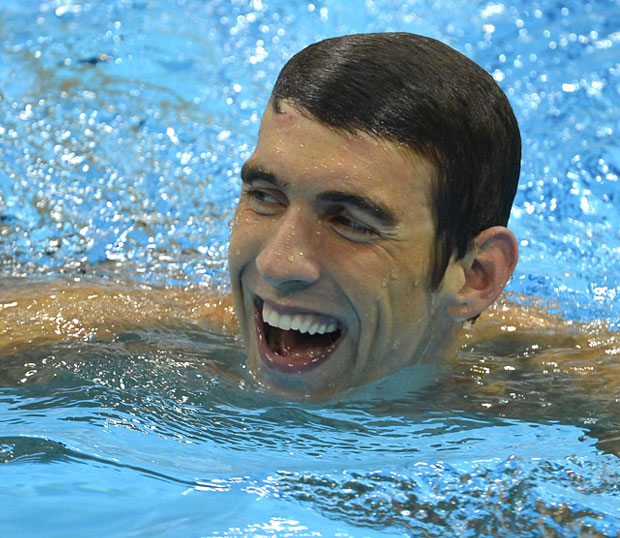 Let's just go ahead and say it and get it out of the way now: USA! USA! USA! USA! Alright, we good now? It was a pretty historic day out there in Foggy Londontown, as the Olympics ended day four with quite a literal and figurative splash! There were races and routines galore; medals were passed out–some of them silver, some of them gold, and even a few bronze. Whether on a track, a beam, or in a pool, the Olympics were on fire today, and we've got the best highlights for you here:
World's Fanciest Poolboy: Michael Phelps has done what he came to London to do: make records, win medals, and go down in history for doing just that. Phelps took time out of his busy schedule today to become the most decorated Olympian of all time, winning a 19th medal to surpass previous record-holder Larisa Latynina. Phelps took silver in the 200m butterfly, and gold in the 4x200m freestyle today to make this happen. Not a bad highlight to your final Olympic games, eh?
All Tied Up: The United States are now tied with China in the medal count after four days of competition. Both teams now share the top spot with 23 medals per country. In the Olympic Hunger Games, only one country can come out on top. But what happens if they tie at the end? Are we going to have another berries situation on our hands? Because that really didn't work out the way it was planned in Panem.
Golden Girls Again: The ladies of the US gymnastics team (The Fab Five they're calling them! They're just like The Beatles!) took a trip to the top of the podium after scoring their first team gold since the 1996 games. Led by impressive performances from Gabby Douglas, McKayla Maroney, Aly Raisman (we're waiting for our customary parents react shot, Internet), Kyla Ross and Jordyn Wieber, the ladies posted the top scores in three out of four events. The defending champions, China, failed to place (unlike the men who took home gold yesterday).
Water Sports: Allison Schmitt took home the ladies gold medal in the 200m freestyle. Nice work, Schmitty! Our men's water polo team posted a 10-8 win over Romania today thanks to some top-tier work by Peter Varellas and Ryan Bailey. Well at least Romania still has Horia Tecau going for it.
Volleybutts: I'm sorry, balls. I meant balls, not butts. (Teeheehee!) But our beach ballers there sure are kickin' some butt, huh? The US men's team beat Spain out on the beach today, and the women's players April Ross and Jennifer Kessy are now ranked number one.
Tennis Talk: Andy Murray is through to the third round of the men's tennis after beating Jarkko Nieminem, and Venus Williams won her second round match against America's TopHat competitor, Aleksandra Wozniak. Go on brush your shoulders off, America.
[Image Credit: Getty Images]
Follow Alicia on Twitter @alicialutes
More:
Olympics Round-Up: Missy Franklin Nabs First Gold, Britain Gets Bronzed
Olympics Round-Up: World Record for Dana Vollmer, Hugs for Michelle Obama
Take Some Time to Laugh at Athletes with These Meme-Tastic LOLympics