Olympics Round-Up: Usain Boltin', Blade Runnin', and Andy Murray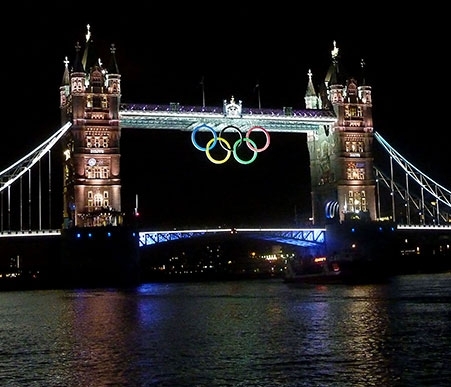 Day Nine already–can you believe it? It's hard to believe the London 2012 Olympics are already more than halfway over, but that's the life we have to life with. But let's not worry about the end just yet, as there are still so many things to discuss! Gold medals for the US, a big moment for the UK, and then there's that whole 'historic moment for women in sports' thing that happened, too. Not too shabby, Olympic games! Let's check out the highlights.
Seeing Doubles: The sisters Williams (aka Venus Williams and Serena Williams) took home gold for the US today in the women's doubles match–beating out the Czech Republic's Andrea Hlavackova and Lucie Hradecka. Way to go, ladies! We expected nothing less from you.
Murray, You Stay: Federer, sashay away. England has a new golden boy in Andy Murray, the underdog who beat out can-he-ever-lose (apparently so!) tennis champion Roger Federer of Switzerland. Murray took home the gold after an intense men's single match. And a tear was shed from every eye in England. But just one tear, of course. They're British. One must have civility and decorum in times of triumph. Anything else may be misconstrued as…American or something!
Regatta? I Hardly Know Her!: Alright so that was mostly just a headline for jokes' sake, but regattas aren't just for rich white people that live on the beach and belong to country clubs in places like Greenwich and Back Bay. No! You see, regattas are also a thing at the Olympics! And in a shocking twist to approximately zero percent of the world population, Britain took this one home with a gold. Because duh, you guys. Congrats to Ben Ainslie, now go pour yourself a pot of Yorkshire Gold!
Sound of Silver: Poor McKayla Maroney! All the girl wanted was a nice gold medal to go with her other nice gold medal. Unfortunately Maroney landed on her bottom instead of her feet during the artistic portion of the Women's gymnastics vault final, potentially costing her the gold. But don't feel too bnad for her, since she still managed to finagle a silver for herself.
Are Usain Lightning Can Strike Twice?: Olympic running wunderkind Usain Bolt comfortably took home an Olympic gold for his run in the men's 100m final. This is Bolt's second straight gold medal in the 100 meters, finishing in an Olympic record 9.63 seconds.
Run Sanya, Run!: American Sanya Richards-Ross finally got that gold she came so close to in Beijing four years ago. Hooray! Ross' win is the first gold medal in track events for the US.
Don't Box Me In: Lady Moments in Sports!: Go ladies! The long-awaited introduction of women's boxing made its way into the Olympic games today. Hooray ladies! This calls for a rousing rendition of "Anything You Can Do (I Can Do Better)," does it not?
Blade Runner: Double-amputee runner Oscar Pistorius made history as the first Paralympian to also compete in the regular games, but failed to reach the final during the 400m race today, following up a less-than-stellar start and finishing last in his semifinal heat. But hope is not lost for Pistorius, who is still expected to run the 4×400 relay.
The Medal Race Continues: China regained the lead in gold and overall medal standings today at the London Games. China has 30 golds and 61 medals overall. The United States has 28 golds and 60 overall. Those jerks! Come on now, America. Here's your chance! Take 'em down! Get ALL of the gold medals! This isn't just a fight for gold, it's obviously a fight for democracy! Ready? CHARGE!
[Photo Credit: WENN.com]
Follow Alicia on Twitter @alicialutes
More:
Olympics Round-Up: It's So Hard to Say Goodbye to Michael Phelps
Unhappy Hour: 9 Ways The Olympics Gave Us Reason to Drink
The Royal Olympics: A Pictorial Guide to the Royal Family's Athletic Attempts — PICS