Olympics Round-Up: World Record for Dana Vollmer, Hugs for Michelle Obama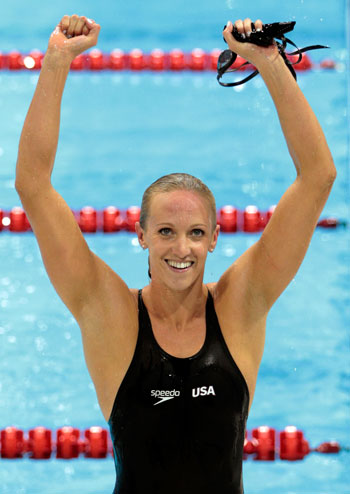 With Day Two of the London 2012 Olympics nearly wrapped up, several news stories dove, swam, and shot their way across the pond to our own shores. We've wrapped up the highlight moments from the games for you.
Fluttering to a World Record: Super-swimmer Dana Vollmer set the bar super-high for team USA on Sunday, by winning the 100 meter Butterfly. Not only did she take home the gold, but she also snagged herself a handy little world record in the process! Her time of 55.98 beat out the last world record to make Vollmer a continually impressive Olympian to watch.
France's Big Upset: While Michael Phelps and the other boys were expected to take the Men's Freestyle Relay gold in a jiffy, the team from France passed gold medalist Ryan Lochte and the gang in the final riveting minutes to take home the Gold. Team USA took home a not-too-shabby Silver, but were probably a wee bit shocked at how well Yannick Agnel anchored the team in a flawless show of athletic prowess.
More Medals, More Surprises: Synchronized divers Kelci Bryant and Abby Johnston won themselves a silver medal in the women's 3-meter synchronized competition. It was the first diving medal for the US in twelve years.
Gymnastic Surprise: The 2011 defending all-around world champion, 17-year-old Jordyn Wieber shocked everyone when she made several mistakes that cost her entry into the floor routine finals.
Aww Skeet Skeet: American shooter Kim Rhode became a part of US Olympic history when she medaled in her fifth straight Olympics. Rhodes won the gold in the women's skeet today, with a practically flawless performance–missing only 1 of 100 targets. An Olympic record! All in a day's work, huh?
The First Lady of Hugs: And now for something a not-so-sporty, but super adorable, check out this video of the US Men's Basketball team giddily lining up to score some hugs from FLOTUS Michelle Obama to celebrate their 98-71 win against France. Look at how cute and excited they all are! Aww shucks, isn't America great, you guys?
[Image Credit: Getty Images]
Follow Alicia on Twitter @alicialutes
More:
Olympics Round-Up: Lochte Beats Phelps, Archers Take Aim at Silver
Olympics Opening Ceremony: We're Live Blogging It!
Everything We Know About the Olympics Opening Ceremonies (And Some Things We Don't)