Olympics Spoiler Alert: The Thrill is Gone?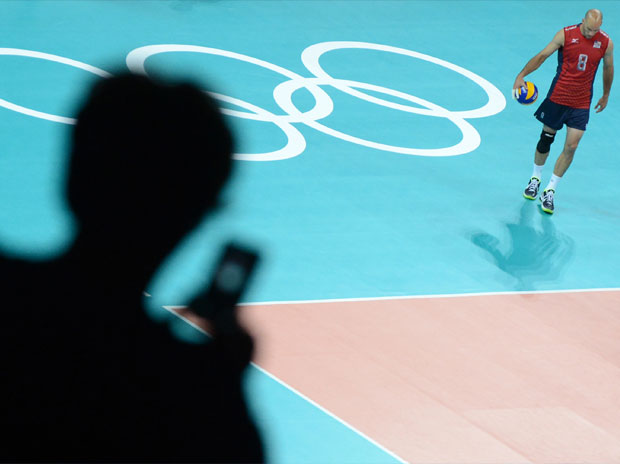 There's an unspoken set of rules in the Twitterverse when it comes to pop culture spoilers: wait an adequate amount of time before talking about something from a buzzy movie or television show; if you must talk about said TV show or movie, keep it as vague as possible; and, if you must spoil, give the courtesy #SPOILER warning at the front of your tweet or Facebook post. 
But what's the etiquette when it comes to live sporting events? Namely, the 2012 Summer Olympic games? While NBC is offering a live stream option on their website for those with cable providers, the network has been receiving criticism for not airing hotly anticipated events live, like the first race between swimmers
Ryan Lochte
 and
Michael Phelps
. The popular match-up took place on Saturday morning in London, but did not air until primetime in the States on NBC, at which point anyone within distance to a news website or Twitter feed had already learned that Lochte locked up his first gold medal of the London games and 2008's reigning champ Phelps floundered in 4th place. 
The primetime programming choices (which,
The Atlantic
explained, ultimately came down to advertising dollars and cents) have already caused blowback on Twitter — which is, ironically enough, arguably the biggest culprit in Olympic spoilers, not to mention the cause of some live programming
interruptions
 — and Facebook, with fans airing their grievances en masse. The hashtag
#nbcfail
, as well as the parody feed
@NBCDelayed
, have spawned as a result of frustration over what NBC has decided to air live and troubles with the live stream itself. As one Tweeting viewer
complained
, "Here we go again, every time Olympics stream breaks for an ad, Adobe crashes, I have to reload. #NBCfail." 
So between Internet landmines like Twitter and spoiler-laced headlines (take, for instance the
People
headline story on Sunday, which read "
Jordyn Wieber
's First Day in Olympic Competition Ends Unexpectedly"), will there be any way for NBC, fans, and sports journalists to find a common ground during the games? It's certainly a predicament for a network understandably still hoping to score primetime eyes and news outlets hoping to keep up with breaking headlines. "I was really looking forward to the Ryan Lochte-Michael Phelps showdown," says 
Heidi Moore
, the Wall Street correspondent for American Public Media's Marketplace who also penned a piece for 
The Guardian
 about her problems with NBC's model. 
"The thing is, there were CNN alerts about it, there were ESPN alerts, it was on the homepage of the New York Times," Moore continues, "Meanwhile, on NBC, Bob Costas kind of leaned into the camera and said, 'These events were recorded earlier, but we're promising you, no spoilers.' Like, are you kidding me? I think that they mistake that they have the broadcast rights for the fact that they have a news monopoly on the Olympics and they don't. It's really surprising for a news network to not get that." (Hollywood.com reached out to NBC, but did not immediately hear back.)  Coincidently, whether or not it was its intention, The Guardian — a U.K.-based news organization — seems to be one of the only outlets allowing time-delayed readers to avoid spoilers via a "Hide Olympics/Show Olympics" feature on their homepage. 
Considering the intense backlash from fans and critics, it's not surprising that the programming battle has already turned ugly. A Los Angeles-based writer for
The Independent
, 
Guy Adams —
a critic of NBC's handling of the Olympics — had his account suspended after posting the President of NBC Olympics' email on Twitter. Adams was informed by the social networking site that he was suspended after publishing a private email address, but as Adams explained in his response to Twitter, "I didn't publish a private email address. Just a corporate one, which is widely available to anyone with access to Google." At the time this article was published, Adams' Twitter was still down. 
But that's hardly stopping critics from continuing to slam the programming. Some dissenters also have criticized the network's decision to only make the live stream available for those with cable providers. In fact, Moore notes that 64 countries in the world have enabled their citizens to watch the events for free, whereas Americans must be able to pay a considerable monthly cable fee in order to see the Olympics. "As a viewer, all I want is a way — for big event — to watch [the Olympics] live," Moore says. "It's not going to be every [event], but if it's something like a swimming relay that's going to take five minutes, yes, I would love to watch that live and I would watch it again at night. A lot of people would. I think NBC believes that if people have access to something during the day, that they won't watch it again. These are historic moments that get replayed." 
And it turns out fans do seem to be watching the moments again. Saturday night's primetime viewership, which included the Lochte/Phelps race, brought in a staggering 28.7 million viewers, up from both the 2008 and 2004 Olympics' first Saturday night coverage.
Still, others have found that the NBC programming has actually helped and not hurt their content and enjoyment of the games. 
Ben Eagle
, the Olympics producer for
SI.com
, says the programming coverage encourages readers to stay put on their computers. In fact, Eagle says NBC has put forth a "great model" that caters to "true sports fans" who want to watch the games live. "For us, from a reporting perspective, the time difference is actually excellent," he says. "It runs while people are at their computers." 
But, even as a reporter, he's not immune to the rapid-paced spoiler culture. "Even as I'm watching these events as I'm streaming them … someone has already tweeted the results," he says. "There's no such thing as a surprise anymore." 
But shouldn't we have expected as much? After all, during an age in which every piece of information we have at our disposal can be published for the whole world to see, there was no question that the Olympics' fervent fans would be subjected to social networking's spoiler-heavy reality. But even the frustration over programming decisions and Twitter tactics, it feels like the more overwhelming consensus is: come hell or Lochte waters, fans will be watching in any capacity that they can. 
[Photo credit: Getty Images] 
More: