On the Next 'Arrested Development': Will We Reunite with Kitty, Maggie, and Carl Weathers?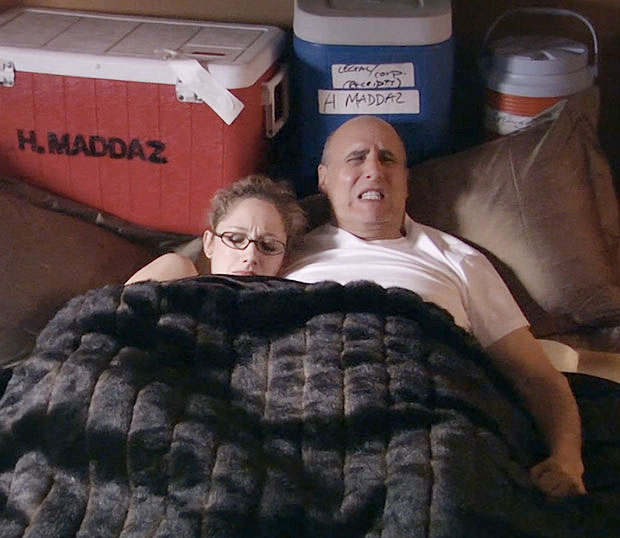 If you've already heard the latest good news about the upcoming season of Arrested Development bumping up its episode count from 10 to between 12 and 15, then you've probably already begun mustering up some ideas of how Mitchell Hurwitz might be inclined to fill these new installments in the next chapter of his story about the Newport Beach family. Word has been that each of the first nine episodes would focus individually on a member of the Bluth/Fünke clan, leaving the remainder of the series to bring the characters together and set them on their merry way toward the chaotic cinematic endeavor with which they are fated.
But there are new opportunities here. Now that Netflix, the venue where the new Arrested Development season will find a home, is granting us more time at the model home, up in the penthouse, and down by the big yellow joint, we might get to see what some other members of Hurwitz's strange universe have been up to. And maybe even pick up on some storylines the show didn't get a chance to conclude. We already know that a few supporting characters will be returning for Season 4 (including Henry Winkler as inept and ethically-blind attorney Barry Zuckerkorn, and Andy Richter as himself and his four brothers, Donnie, Chareth, Rocky, and Emmitt), but there are plenty others we're curious about. What ever happened to everyone else?
Whatever Happened to Ann?
Last we saw her, she had recently won third place in an inner beauty pageant and was shacking up with her ex-boyfriend's sleazy uncle, GOB. In one of the final shots of the series, Ann let out a hyper-dramatic scream when George Michael punched GOB for the ordeal; it seems as though she has given up on her didactic Christian upbringing, opting instead for a newly adventurous take on life. So where has this taken her — an extended romantic tryst with an amoral man more than twice her age? Or has the family severed ties with Ann altogether?
Whatever Happened to Kitty?
Last we saw Kitty, she was taking up with Blue Man Group member George Sr., who has since abandoned her and returned to his home in California. So where is Kitty these days? What sort of power does she continue to wield over the Bluth family? And does she still hold a candle for the clan's booming patriarch?
Whatever Happened to Lucille 2?
Last we saw Lucille 2, she was cutting off all ties to the Bluth family, selling her shares in their company to spite their dastardly deception. Plus, she was kindling a new romance with one Stan Sitwell, who is still very much in contact with the family. As such, we probably haven't seen the last of the poor vertigo-stricken widow. So how might she come into play in the new season — engaged in her usual battle of acerbity with Lucille 1? Gunning again for the love of Buster? And has she finally earned the ability to stand up without getting dizzy?
Whatever Happened to Carl Weathers?
Last we saw Carl Weathers, he was directing the televised account of the Bluth family's legal troubles, Scandalmakers (and portraying Ice the Bounty Hunter). Did the ill-conceived project launch Carl's directing career, or bring it to a crushing halt? Will he find himself in another Burger King-based conversation with Tobias anytime soon? It is a wonderful restaurant.
Whatever Happened to Rita?
Last we saw Rita, she and Michael had broken off their engagement when he had come to realize that she was mentally challenged. But since then, we've heard of her obtaining some degree of professional success running the "drama development" department at the production company Uniprod. So has Rita flourished in behind-the-scenes showbiz? And has she found the love she's been looking for?
Whatever Happened to Marta?
Last we saw Marta, she was angrily chastising Michael and GOB, both of whom she had been romantically involved with, for fighting with each other outside of a courthouse. Soap opera star Marta valued family above all else, and understood their to be no brotherly love between the Bluth boys. But where has she been ever since? Thriving as an actress? Looking for love in less toxic locale?
Whatever Happened to Gilligan?
Last we saw accountant Ira Gilligan, he was lounging happily about a tropical island after all his years taking abuse from George Sr. had finally paid off. But is he still living a life of luxury? Have Gilligan's fortunes run dry? Will he return to George's behest, or face his former boss' wrath for running off on the company?
Whatever Happened to STEVE HOLT?
Last we saw STEVE HOLT!, he was helping his lovable ol' dad GOB outdo Uncle Mike and Cousin George Michael in a banana stand battle. The high school super-super-super-senior is a gifted athlete and large in heart, so perhaps his talents and kindness have taken him far… or, perhaps, he's still running for Class President at age 30. Where are you, Steve Holt? Will we see you again?
Whatever Happened to Maggie?
This is a big one! Last we saw Maggie, she was revealed to be pregnant. With Michael's child. Well, that's the hint we're given anyway, but it's enough to make us wonder: WHAT THE HELL EVER HAPPENED TO HER? Has she had the baby (it's been a few years, so we'd think so), and does Michael have any idea that he's got a second kid out there? Are we going to get answers to any of these questions?!
Whatever Happened to Gene Parmesan?
Nobody knows.
[Photo Credit: Fox]
More:
'Arrested Development': 20 Running Jokes We Hope Keep Running
It's 'Arrested Development': A Gallery of Set Photos from the New Season
Alia Shawkat Talks Breaking Free of 'Arrested Development' Then Coming Back for More
'Arrested Development' Gets Some Hop-Ons: Isla Fisher and Terry Crews!
'90210' Star Shenae Grimes' Engagement Ring (FIRST LOOK PHOTOS)

Kim Kardashians Best Bikini Moments (PHOTOS)