'Once Upon a Time' Creators Tease 'American Horror Story' Meets Wonderland Spin-Off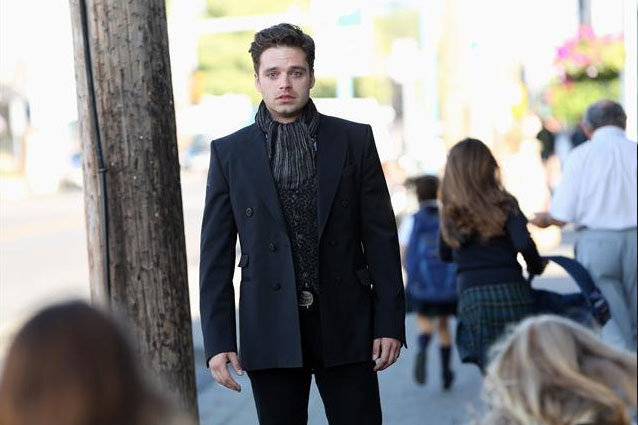 Hold onto your hats because we've got some exciting fairytale-filled news! Rumors have recently been swirling throughout the internet that Once Upon a Time  creators Adam Horowitz and Edward Kitsis are looking to create a Mad Hatter spinoff — without the spellbinding actor Sebastian Stan.
We at Hollywood.com could not bear the thought of such wicked news, so we caught up with the creative duo at Sunday's Once Upon a Time PaleyFest red carpet to set the details straight. "It's not even Mad Hatter!" Kitsis says. The creators revealed that their new idea is merely a whimsical kernel that since has popped into a into a wildly misreported rumor.
RELATED: 'Once Upon a Time' at PaleyFest
"There's a lot of misinformation out there," Horowitz says. "I'd just say it's an idea we've been tinkering with — there are no plans to recast anyone. It's just something we're playing around with." Do you all hear that? That's the sound of millions of girls collectively exhaling in relief and glee.
Now that we know there are absolutely no plans to recast Stan, let's get to enchantingly dark details. "The secret is that it's about Wonderland." Kistis says. "It's much more in the vein of American Horror Story — a beginning, middle and end limited thing. It won't be for [this] fall and we're just tinkering around in the laboratory. It's going to require new characters."
Kitsis sums up their overall vision for the show: "An epic love story set in the sick, twisted world of Wonderland — but a limited edition." The intrigue of American Horror Story mixed with multi-dimensional characters that only Lost's Horowitz and Kitsis can create? We're already enchanted!
RELATED: Once Upon a Time Recap: Like Father Like Son
What do you think of this American Horror Story-inspired fairytale? Relieved to know that Sebastian Stan's role as Mad Hatter is safe? Tell us your thoughts in the comments below!
Follow Leanne on Twitter @LeanneAguilera
[Photo Credit: ABC]
---
From Our Partners:


Justin Bieber Celebrates 19th Birthday, Loses His Pants (Vh1)


60 Celebrity Bikini Bodies: Guess Who! (Celebuzz)