'Once Upon a Time' Scoop: Neverland, Sheriff Graham, Season 2 Finale, and More From PaleyFest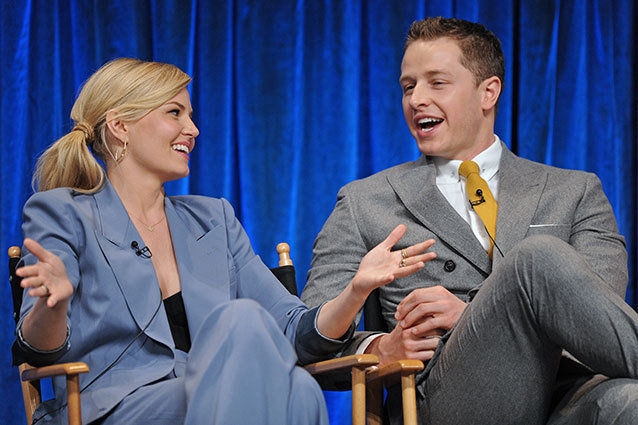 It was an afternoon of magic, mayhem, and mysteries as the cast of Once Upon a Time graced the PaleyFest panel on Sunday. The enchanting cast and creators Adam Horowitz and Edward Kitsis took the stage to dish bewitching details about what's still to come in Season 2 of the ABC drama. From time-traveling storylines, to new realms and former flames, Hollywood.com was there to gather all the highlights. Read on for scoop on Henry's fate, Rumbelle's awkward love-triangle, Sheriff Graham's return and much more!
RELATED: Once Upon a Time Recap: Like Father Like Son
Journey to Neverland: Kitsis confirmed that later this season fans will be transported to a completely new and different realm that we've never seen before. Although he wouldn't reveal where, fans instantly figured out the puzzle when Horowitz reveald the titles for the Season 2 finale. "The final two episodes of season two they kind of work as a two parter. Part one is "Second Star to the Right" and part two is entitled, "And Straight on Til Morning." Grab some fairy dust and put on your jammies because we're headed to Neverland! And let's just say that Hook is not the only character who's lived in this forever young land — Bae's been there too.
Henry vs. The Dark One: As we learned in the final few seconds of "Manhattan," the seer revealed to Rumplestilskin that one day a young boy will be his undoing, to which The Dark One sneered, "Well then I'll just have to kill him." Kitsis explains that Rumple will eventually have to face this fate-filled decision. "We saw when Rumple was last given a choice between love and power he let his own son go, so the question is has he learned anything and what chance does his grandson have?" After Lana Parilla pretended to punch Robert Carlyle in the face for threatening her TV son, Horowitz presented an interesting point, "An is undoing a bad thing?" Perhaps there's hope that both Rumple and Henry can co-exist without any bloodshed.
Return to The Enchanted Forest: In many of the most recent episodes, Charming has expressed his strong desire to return to their fairytale-filled land. Kitsis confirms that this vision of home is something that our swashbuckling Prince is willing to fight for. "As much as David likes electricity, he misses his sword, and he misses his horse, and he misses his castle, he wants to kill some ogres and he wants to rebuild his land this is something that I think a lot of people could go on board for so we'll see if that happens." Kitsis says.
RELATED: 'Once Upon A Time' Recap: A Giant Guest Star Returns
Captain Swan Scoop: While many fans are dying for this electrifying duo to finally lock lips, there are two people who would be less than pleased with the pairing: The parents. "I'll let you take this one daddy," Ginnifer Goodwin says to her on-screen (and off-screen!) beau Josh Dallas. The actor channels his protective father side saying his character would "definitely' have a problem with a Captain Hook/Emma Swan hookup. Dallas says, "They want to protect her and they love her. They want to make sure that she has a shot at her happy ending," Goodwin chimed in adding, "I think it would be tricky for her being with someone who shared her baby's daddy's mothers bed." Ooh snap!
Welcome Back Sherriff Graham! Fans across the interwebs have been aflutter ever since it was revealed that dearly departed Sherriff Graham (Jamie Dornan) would be returning to set. The fan-favorite will be returning in episode 17 entitled, "Welcome to Storybrooke." Horowitz reveals "[This] is an episode that we're very excited about and we're going to see the early days of Storybrooke." Kitsis continues, "It's the first week of the curse… We are going to get more insight into what it was like that very first week in 1983 what was life like for the evil queen to live in and to figure out this modern clothing." Parilla was quick to assure fans that Regina will not be rocking a perm in this episode, however we will get to see more about her desires to look into adoption.
RELATED: 'Once Upon A Time' Recap: Make Believe, Monsters, And Mothers
Tootles Belle, Hello Lacey: For those of you who are crossing your figners and toes for Belle to regain her memory, we've got some bad news for you. We'll let Kitsis explain: "Remember when David Nolan was in a coma and he woke up and didn't know who he was and then all of the sudden one day his cursed personality took over?" Be prepared Rumbelle fans because in episode 19, Belle is released from the hospital but she's not the same innocent book-loving girl. Get ready to meet Lacey. "She is the opposite of Belle… things are going to get a lot more interesting for Mr. Gold," Kistis says. Emilie de Ravin also offered her two-cents on the new character: "Racey Lacey."
Always-Evolving Characters: You may think Snow White is the purest of pure, but be warned Once fans, the characters of Storybrooke always have a chance to change. "I think the interesting thing about our show is that we don't write all of the good characters completely good, and we don't write all of the bad characters completely bad." Kitsis says, "And at the end of the day they're all searching for their happy endings, it's just that some of them have a harder path." Especially our dear sweet Snow. (Hint-Hint!)
What do you think of all the Once Upon a Time goodies we've gathered? What storyline are you most eager to see more of? Intrigued to meet Lacey? Cast your spell in the comments below!
Follow Leanne on Twitter @LeanneAguilera
[Photo Credit: Kevin Parry/Paley Center for Media]
---
From Our Partners:


Justin Bieber Celebrates 19th Birthday, Loses His Pants (Vh1)


60 Celebrity Bikini Bodies: Guess Who! (Celebuzz)