'Once Upon a Time' Recap: Don't Tase Me Bro!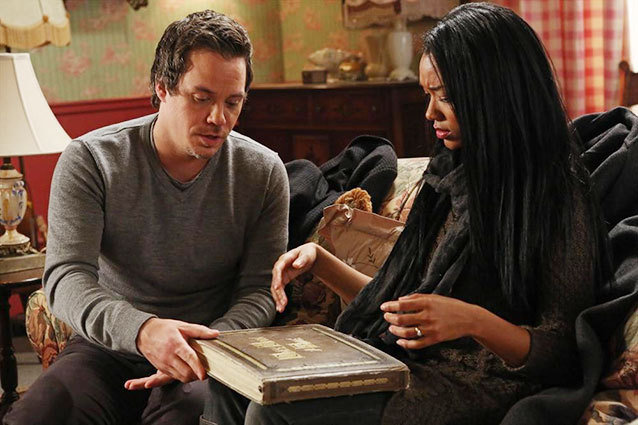 This week's Once Upon a Time was a whirlwind of answers — both from the past and the present. We discovered where August has been hiding, more about the mysterious "Her" that Owen keeps calling, and how everything and everyone seems to be connected in Storybrooke — whether you like it or not. Plus, fans were treated to the knowledge that Hook has escaped from his NYC basement and his handsome face will soon return to our TV screens. Read on for all of the enchanting details you may have missed from, "Selfless, Brave, and True."
Hong Kong Hallucinations: In a flashback to Phuket circa 2011, August was enjoying sweet dreams with an attractive lady at his bedside. Everything looked peachy until August was startled awake with a horrible and very fairytale specific side-effect: His leg was turning to wood. The doctors at the hospital scoffed at August because to the non-magical eye, his leg looked perfectly fine. Just when all seemed lost, August was introduced to a mystical healer by the name of The Dragon. It looks like August wasn't the only familiar face hoping to be cured, Tamara — Neil's NYC fiancé — was also in the waiting room!
RELATED: 'Once Upon A Time' Recap: A Fresh Start And A Blackened Heart
August entered the room and immediately The Dragon recognized that he was Pinocchio, and that his left leg was reverting back to its former wooden glory. For payment, the healer asked for a personal item that is irreplaceable, so August reluctantly passed along the string of his necklace because it was once one of the strings attached to him as a puppet. The dragon — clearly a man who enjoys the finer things in life — also asked for $10,000 and in exchange, he would give August a glowing, totally legit-looking vial of potion.
August clearly did not have enough money to pay The Dragon, but while he was silently panicking, Tamara invited him to join her for a drink and pulled out a gigantic envelope filled with cash to pay the bartender. Predictably, when Tamara stepped out to take a call, August snatched the cash and bought his magic potion from The Dragon. Just when he was about to swallow his cure, Tamara — clearly super pissed — came out of nowhere and chased a limping August down an alley. August dropped the vial and Tamara snatched it up, leaving her former drinking buddy in the gutter.
Here's the twist: Tamara lied to August and said that she had cancer — however there was nothing wrong with Tamara when she went to go see The Dragon. It turns out Tamara is some kind of magic hunter, and up until now, her long journey had only brought her to frauds and fakes. But The Dragon was the real deal. However, despite that fact that The Dragon could create real magic, Tamara whipped out a stun gun and killed him — it was pretty random and confusing as to why a stun gun was her weapon of choice, but hey girl, no judgment.
RELATED: 'Once Upon A Time' Post Mortem: The Cast Reacts To [spoiler!]'s Murder
Storybrooke Solutions: Emma, Neil, Henry and the fresh from New York Tamara were having what appeared to be the world's most awkward breakfast together. When Emma and Henry stepped out, Neil decided it would be best to tell Tamara the truth of his past and whipped out Henry's fairytale book — but like any seemingly normal person, Tamara thought Neil was being crazy. She told Neil to come find her when he was ready to reveal his true feelings about their relationship and then stormed off to Granny's.
Snow finally decided to get out of bed after weeks of wallowing, and went to the forest to practice a little sharp shooting. She discovered a trailer where August has been hiding, and was shocked to see that he had completely reverted back to wood — yet he could still walk and talk like a human. August told Snow that he doesn't want anyone to ever see him like this, he was not returning to Stroybrooke and she should not tell anyone where he was.
It only took about 2.5 seconds for Snow to run to Granny's and spill August's secret to Emma, Gepetto — and inadvertently Tamara too, because the nosy stranger was eavesdropping. While Emma and Snow headed to The Blue Fairy to ask for her help, Tamara discovered August's hiding place and offered him a deal: If he left Storybrooke, and promised to never return, August could have the potion that she stole back from him two years ago. All he wood have to do is drive back to her NYC apartment to get it. When August questioned Tamara's motives in Storybrooke, she quickly dismissed his accusations but did reveal that she was indeed "quite human."
RELATED: 'Once Upon A Time' Recap: The Fairest Of Them All Takes A Dark Turn
Just as August was crossing the town lines, he discovered a picture that Tamara claimed she had given to The Dragon as payment. August quickly realized that Tamara not only lied, but had also killed The Dragon. He retuned to Stroybrooke and attempted to call and warn Emma of Tamara's evil ways, however, Tamara cut off his call and used her taser to zap the life out of August's solid wood body. August died in Emma's arms before he could reveal the name of his electrically-charged assailant.
But all was not lost! Because August acted "selfless, brave, and true" that day, The Blue Fairy restored life to our handsome hero — but of course there was a twist. August was brought back to life, but he was turned back into a "real boy" — not a real man — and he had no recollection of his former hot and grown-up self. At Neil's side, Tamara witnessed the whole thing and she assured/lied to her fiancé that despite all of this craziness, he is what she signed up for.
Later that night, Owen — who Regina finally recognized and threatened — went to call the infamous "Her" in his phone, only to realize that she was right outside his door. "Her" is actually Tamara, and in the creepiest and most bizarre twist of the entire episode, the two magic-obsessed individuals began making out.
RELATED: 'Once Upon a Time' Post Mortem
What did you think of "Selfless, Brave, and True"? What do you think Tamara wants with the magic is Storybrooke: Will she destroy it or keep it? Are you devastated that we're never going to see grown-up August again? Cast your spell in the comments below!
Follow Leanne on Twitter @LeanneAguilera
[Photo Credit: ABC]
---
You Might Also Like:


Topanga's Revealing Lingerie Shoot: Hello '90s!


13 Most WTF Fan Tributes