'Once Upon a Time' Recap: The Fairest of Them All Takes a Dark Turn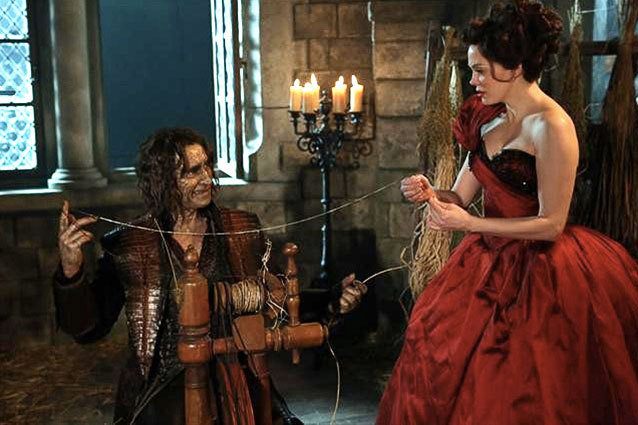 This week's Once Upon a Time featured one very important and dark theme: Bloodlust. Fans were treated to a look at The Dark One's past as a young Cora (Rose McGowan) used her desire for power to propel her deeper and deeper into the heartless woman we know today. Meanwhile, in Stroybrooke, Snow is tired of always doing the right thing and is willing to take a stand and fight for her family—even if that means taking someone's life. Read on for all the wicked details you may have missed in "The Miller's Daughter."
RELATED: 'Once Upon a Time' Post Mortem
From Peasant to Power: The episode opened on a young Cora — who looks >daughter, a proud girl who despite having a drunk for a father, and no food on the table, was willing to work hard for her keep. One morning, Cora was delivering bags of flour when a familiar face, young Princess Eva — aka Snow's future mother — tripped Cora, causing her to spill flower all over the castle floors.
Outraged at the girl's unprovoked act or cruelty, Cora snarled, "You stupid foolish girl!" The King, quickly put Cora in her place by refusing to pay for the flour, forcing Cora to kneel, and then apologize to Princess Eva. A few nights later, Cora, dressed in a gorgeous blood-red gown, snuck into the castle's royal mascaraed ball in hopes of eating the free food and passing judgment on those before her. The ball was the King's version of The Bachelor as he paraded the kingdom's most eligible women in hopes for finding his son a wealthy bride.
After only a few minutes at the ball, the King quickly recognized Cora, insulted her, and threatened to kick her out of the royal party. Cora, determined to shed her "peasant girl" image, announced to the King that she could spin straw into gold. Cora said, "But as you have insulted me, you shall not reap the benefits. Good luck whoring your son." The King made a deal with Cora: spend the night locked in to tower filled with straw, turn it into gold and then she could marry his son, but if she fails, Cora dies.
RELATED: 'Once Upon a Time' The Most Horible Death-Filled Birthday Ever
Cora was just beginning to contemplate suicide when Rumplestilskin arrived and offered to help save her — for a price of course. Rumple announced that he would turn the straw into gold in exchange for Cora's first-born daughter, but Cora had a better idea. "No teach me. Don't just do it, teach me, make it part of our deal." So Rumple sat down, and taught Cora the secret to channeling magic: bloodlust. Rumple said, "Summon up that moment that made you so angry, you would've killed if you could."
Cora revealed that she wants to make the kingdom pay for making her feel like a peasant: "I realized that no matter how good I was, or how hard I worked, I was never going to be more than I am now. I want to make them bow, I want to make their kneecaps to crack and freeze on the stones." Cora channeled her inner magical abilities and through their bonding, Cora and Rumple fell in love.
On the night before her wedding, Cora and Rumple decided to run away together and then made a slight change to their original agreement. Rumple said, "Instead of owing me some random first born child, you owe me my child." Cora smiled at their new pact announced her plan: "Fifth in line to be queen, that won't happen without a lot of bloodshed." Cora asked her love to show her how to rip the heart out of the King for making her feel less than royalty and Rumple gladly agreed.
Later that night, Cora met up with Rumple to go along with their plan to run away together but after a brief kiss, Rumple could tell that something wasn't right. Cora crooned, "I'm sorry my dear Rumple, I'm not going with you, you see I have a wedding to go to — my own." Cora revealed that she did not place the King's heart in a box, she placed hers in there instead. "If the choice is love or power then even having a heart is a liability." Cora broke Rumple's heart, and later had a baby girl with the prince and introduced her to the kingdom as Regina.
RELATED: 'Once Upon a Time' Spin-Off
From Light to Dark: While Emma, Henry, Rumple and Neil, sailed Hook's ship back to Storybrooke, Cora and Regina were spying on Snow and Charming — through an "enchanted box (aka a phone tap) — thus learning their plan to steal back the Dark One's dagger. Cora revealed her plan: "I have to be come the dark one, and with his power there's nothing I won't be able to do."
Little did they know, Snow also had a plan: "David, she needs to be stopped! She needs to be killed this is our family and we're going to protect it!" Charming quickly countered, "You wouldn't be able to live with yourself. You have the purest heart out of anyone I have ever known. That who you are and that's who you'll stay." Back in Gold's shop, Rumple showed Snow something that he's been saving for a rainy day: The dark magic candle that could save one life by stealing another.
Snow looked terrified and whispered, "There's no coming back from murder." But Rumple convinced Snow that this is the only way to protect his family. He then revealed what Snow would have to do: "Use the candle, curse the heart, and then here comes the tricky part, you'll have to put he heart back inside Cora's body." While Snow contemplated using the dark object, her daughter Emma practiced channeling her good magic to cast a protection spell over the shop.
Regina and Cora attacked the shop and in the midst of all the crazy fireball throwing, Snow snuck over to Regina's vault to cast the curse over Cora's heart. Cora quickly realized that her heart was in danger and she sent Regina to go protect the one object that she holds most dear. Regina looked furious as Snow clutched her mother's heart, but Snow used her sweet face and kind words to tug at Regina's heartstrings: "She can't love, so she can't love you." Snow convinced Regina that the only way she can have a happy family with Henry would be if Cora was able to fully love again.
RELATED: 'Once Upon a Time' at PaleyFest
Back in the shop, Rumple was on the brink of death so he used Emma's cell phone to call Belle. He told his love that even though she doesn't remember who she is, he will never forget the incredible girl that made him fall in love. "You are a hero who helped your people, you are a beautiful woman who loved an ugly man…. You make me want to go back to the best version of me and that's never happened before," he whispered. Bae/Neil and Rumple then shared a sweet embrace which greatly helped restore their father/son bond.
Cora finally broke through the protection spell and with a quick flick of a wrist she transported Emma and Neil into the forest. Then it was just the two former flames in the room. Cora confessed that once upon a time she really did love Rumple saying, "Why do you think I had to rip my own heart out? You were my weakness. You are the only man I've ever truly loved." Just as Cora raised the dagger and was about to steal the Dark One's powers, Regina plunged her mother's heart back into her body.
Cora's eyes lit up and a huge smile fell upon her daughter. However this moment of happiness was only about 15 seconds long as the cursed heart began to kill Cora from the inside-out. Cora whispered to a confused Regina, "This would've been enough. You would've been enough," before taking her final breath. Overcome with grief, Snow burst into the room yelling for Regina to stop before she realized it was too late: Cora is dead. Hatred flashed through Regina's eyes as she snarled, "You did this."
RELATED: Once Upon a Time Recap: Like Father Like Son
What did you think of this week's Once Upon a Time? Do you think Snow Can come back from her first murder? How far do you think Regina will go to avenge her mother's death? Cast your spell in the comments below!
Follow Leanne on Twitter @LeanneAguilera
[Photo Credit: ABC]
---
You Might Also Like:


8 Male Stars With Tramp Stamps


15 Stars Share Secrets of their Sex Lives (Celebuzz)