'One Tree Hill' Says Goodbye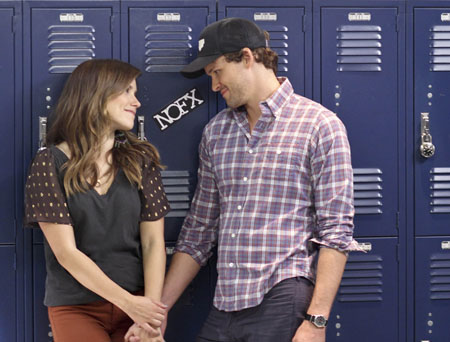 After nine long years of true love, heartbreak, death, drama, and a little bit of basketball, the residents of One Tree Hill will say their final goodbyes on tonight's two-hour series finale. You know what we're talking about: The much-beloved show that started out as your typical jock- and cheerleader-infested teen fare, and eventually grew into a heartfelt drama with well-rounded characters, and, well, a lot less basketball. 
Tonight, your favorite characters will bid farewell after a season filled with some zany, topsy-turvy ups and downs. Nathan is happily back in Haley's arms after a horrifying kidnapping scare with some ne'er do well Russians, but he lost his morally ambivalent father, Dan Scott, in the process. It was a devastating debacle, but Dan's death seemed to provide some closure for Haley and Nathan, as well as the tortured Dan himself. 
Fan-favorite Brooke recently dealt with two very different horrors: First, she was attacked and almost killed by the psychotic Xavier. She put him back in jail, but then had to deal with the unforgettable image of seeing her father, Ted, (Played by Richard Burgi — is that guy ever up to any good?) having some midday sex with his estranged wife (and Brooke's mother) Victoria. Thankfully, all was well when her historically shady parents decided to join their daughter as co-owners of her newest clothing line, Baker Man. 
Brooke's ridiculously sexy and seemingly perfect husband, Julian, has also had some career success — his television series, based on Tree Hill itself, was approved during last week's episode. It's a safe bet that some emotional Tree Hill scenes will be shot during One Tree Hill tonight. (How meta!) 
But the sloppiest tears are likely to be shed during the scenes involving Clay, Quinn, and his formerly estranged son, Logan. Clay recently re-entered Logan's life after years of absence, and everything came together when Quinn was finally able to bond with her boyfriend's son from his former marriage. The lovebirds became engaged at the end of last week's episode, with Logan giving up his "power ring" to serve as a makeshift diamond. Tonight's episode may or may not include their wedding, but expect to see this couple in the middle of all the action. 
What do you want to see in tonight's finale? Scenes of Chase happily running his new bar? Mouth kicking ass at sports? A basketball? Let us know in the comments!
Follow Shaunna on Twitter @HWShaunna
MORE