Oprah and Tyler Perry Team for a Very 'What the Hell?' OWN Ad — WATCH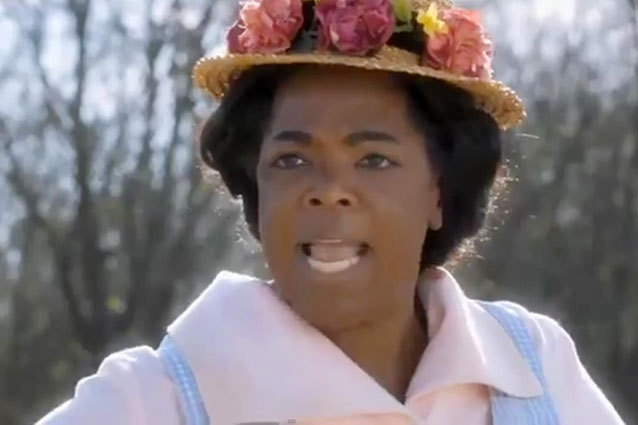 In 1982, American author Alice Walker penned an epistolary novel profound and touching enough to win numerous literary prizes (including a Pultizer), to inspire cinematic and stage adaptations, and to launch the career of none other than Oprah Winfrey. That book is The Color Purple, a certified tear-jerker that touches on the severely heavy issues of poverty, racism, and sexual abuse. A story that deserves the attention of any sensitive high schooler or established literary critic… but, apparently, a story not above the reach of parody. Oprah has released a new promotional ad for her OWN Network, embodying her Color Purple character Sofia alongside none other than Tyler Perry… in drag as his ubiquitous character Aunt Madea.
The mention of this pairing might inspire a vociferous "What the hell?!", and one that will only grow louder with the viewing of the below video. It's strange, disjointed, and a bit uncomfortable… and because of each of these elements, quite fascinating. Check out the commercial below, and experience a broad range of conflicting emotions.
Follow Michael Arbeiter on Twitter @MichaelArbeiter
[Photo Credit: OWN]
More:
'Alex Cross': Tyler Perry Breaks Out of Tyler Perry
Kimmel Recruits Oprah, Matt Damon and More for 'Movie: The Movie 2'
28 Quotes from Oprah's Lance Armstrong Interview
---
From Our Partners


Jessica Alba Bikinis in St. Barts (Celebuzz)


Pics of The Rock Making Things Look Small (Vulture)