The Hippie Lady from 'Orange Is the New Black' Was the Voice of Patti Mayonnaise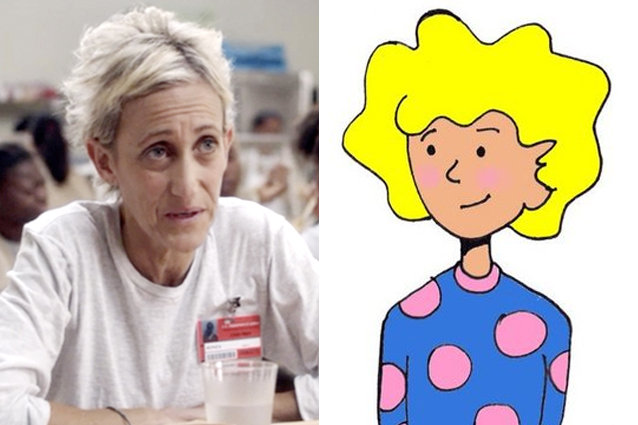 Wanna hear something funnie?
By now, you're probably at least a few episodes into Orange Is the New Black, urged by friends to check out the show or compelled independently thanks to your own nostalgia for the early seasons of Weeds. In said case, you'll have come into contact with "Yoga Jones," the appropriately named prison inmate who leads her fellow Litchfield residents in the quest for inner peace via the whole downward-facing-dog kit and kaboodle. Played by Constance Shulman, the character stands out among the rest of the Orange women for her persistent kindness, noteworthy hairdo, and particularly inimitable voice. A voice that, while highly unique, is one that seems oddly familiar… like we've heard it before… long ago… in a town called Bluffington. That's right: Orange Is the New Black's Yoga Jones was Patti f**kin' Mayonnaise on Doug.
In the early '90s, the Tennessee-born Shulman, new to acting then, gave life into the peppy, beetball loving math whiz who served as the apple of classmate Douglas Yancy Funnie's affections for years. On Doug, Patti was raised by her father Chad following the death of her mother, growing up to be an intelligent student and reliable friend. On Orange (spoilers), Jones was raised by both parents — alcoholics — growing up to be a marijuana farmer who inadvertently shot an 8-year-old boy.
Looks like Jones should have abided by that Phil Funnie motto: "Show me a man who resorts to violence, and I'll show you a man who has run out of good ideas."
Follow Michael Arbeiter on Twitter @MichaelArbeiter | Follow hollywood.com on Twitter @hollywood_com
More:
'Orange Is the New Black' Is the New 'Lost'
'The Simpsons' and 'Family Guy' Crossover
'Arrested Development' Season 5 in the Works
---
From Our Partners


Battle of the Bikini Bodies (Celebuzz)


Fangbanging: Complete Guide to All of 'True Blood's Sex Scenes (Vh1)