BBC America's Creepy Clone Drama 'Orphan Black' is Worth a Double Take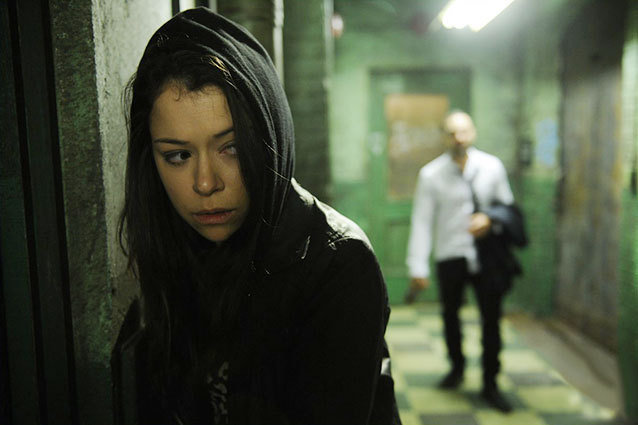 It isn't until the third episode of BBC America's newest original series, Orphan Black, that one of the characters fully spells out the show's central mystery: "We're clones," she tells her sister of sorts. "We're someone's experiment and they're killing us off." But you'll get hooked on the sci-fi drama, part of the network's new Supernatural Sundays, way sooner than that.
British tough girl Sarah (Tatiana Maslany) witnesses a horrific accident at a train station as she's returning home after almost a year away from her dangerous ex-boyfriend and the daughter she left with her former foster mother in Toronto. (Did you get all that? Good.) A distraught woman leaves all her possessions on the platform and throws herself in the path of an oncoming train. Just before she jumps, Sarah catches a glimpse of the woman's face — it's her own.
Thinking this rich woman's life had to be better than her own, Sarah assumes her identity only to find that Beth, the suicidal Canadian businesswoman, is actually a cop embroiled in both a work scandal and a larger conspiracy involving several women who all look like her.
RELATED: Is BBC America's 'Copper' Just 'Law & Order: 1864'?
So that we don't get these clones confused, there's our main character, Sarah, the British foster kid; Beth, the dead Canadian cop; a soccer mom; a German femme fatale; and many more we've yet to meet. Maslany has the difficult duty of playing all of them and is fantastic in every role. She's particularly affecting, however, as the conflicted Sarah, who is torn between skipping town with her daughter, her foster brother, and $75,000 of Beth's money and staying with the women who look just like her and figuring out where they come from and why, exactly, someone is trying to kill them all.
The show is seriously gritty and realistic (well, for a show about clones), but there's enough humor and an eclectic soundtrack —  ranging from M.I.A. to Rammstein — to balance it out. BBC America's second original series (Copper was the first) is a solid, engaging show deserving at least a second look but you'll probably want a second, third, and fourth look after that. Based on the first four installments, these hourlong episodes are no carbon copies. The smartly paced storyline and tight writing will ultimately leave you wanting more.
Orphan Black premieres Saturday, March 30 at 9 PM on BBC America following the Season 7 premiere of Doctor Who.
Follow Jean on Twitter @hijean
[Photo Credit: BBC America]
---
You Might Also Like:


Topanga's Revealing Lingerie Shoot: Hello '90s!


13 Most WTF Fan Tributes