Oscar Pistorius Documentary About the Death of His Girlfriend in the Works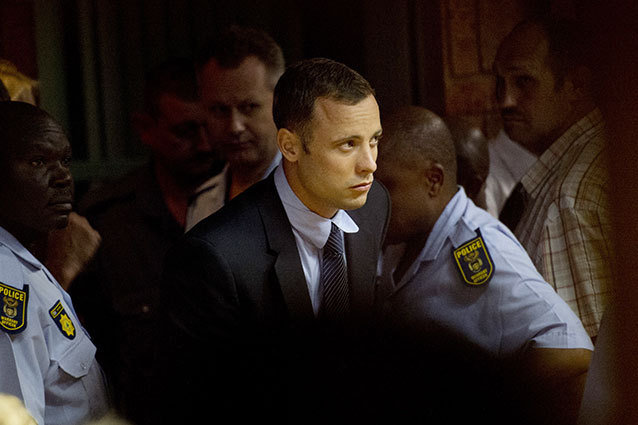 Over the past week, the world has been following the story of South African Paralympian Oscar Pistorius, who has been accused of the murder of his girlfriend Reeva Steenkamp. On Tuesday, Pistorius appeared at a bail hearing for charges of premeditated murder. And now, BBC is going to make a documentary out of his story, according to The Hollywood Reporter.
The BBC Three network ordered the documentary and has hired Mentorn Media to produce the hour-long special. Rick Edwards, who hosted the Paralympics for Channel 4 in Great Britain, will be presenting the documentary.
While there is no set date yet for the release of this documentary, it is expected to be produced as a "fast turnaround" special. "BBC Three is never afraid to tackle current affairs, and we are committed to showing bold, thought-provoking programs for 16-34-year olds," BBC Three controller Zai Bennett said. "Mentorn will be producing this program at incredible speed… I'm sure they will deliver a documentary that will bring a new angle to this ever developing news story."
RELATED: Oscar Pistorius Charged with Premeditated Murder
"The story of Oscar Pistorius and Reeva Steenkamp has captured everyone's attention," executive producer Steve Anderson. "It is hugely important, and Mentorn has the expertise to deliver it quickly to BBC Three."
The documentary will also be placed on pre-sale internationally by Passion Distribution. 
Pistorius earned global fame for being the first Paralympian to ever compete in the Olympic games, and then infamy following charges of premeditated murder. After allegedly shooting his girlfriend four times last week, Pistorius claimed to have confused Steenkamp for a home intruder. Now, the media frenzy is following each development with international coverage of Pistorius' story.
Follow Lindsey on Twitter @LDiMat.
[Photo Credit: INFphoto]
---
From Our Partners:


Bradley Cooper Dancing Is Surprisingly Awkward, Sweaty (Vh1)


Kate Upton Bares All in Nothing But Body Paint: Video (Celebuzz)