Oscars Burning Questions: In Memoriam Snubs, Tie Winners, and the Long-Haired Malfoys?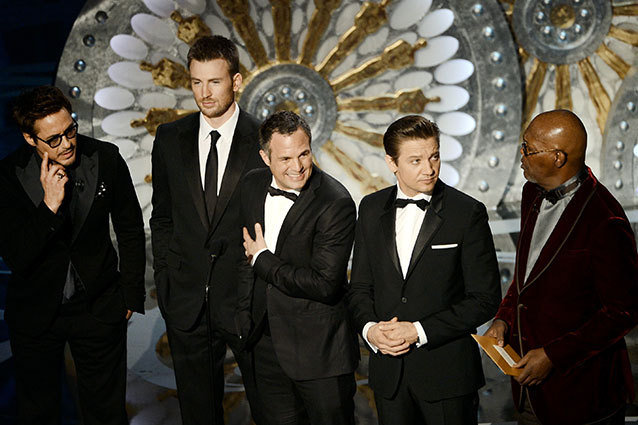 The little golden men have been carried away by the lucky winners. The rented jewelry is being returned. Quentin Tarantino is high-fiving himself in a mirror somewhere. Ryan Seacrest and Giuliana Rancic are weeping because E! has to put aside its 360 Glam Cam until Emmy time. And Captain Kirk is now safely back in the 23rd century. But, like the bad taste that lingers from host Seth MacFarlane's "We Saw Your Boobs" song, many questions about the 2013 Academy Awards remain. We consider it a public service to answer 10 of the biggest for you.
1. Who Was Snubbed During the In Memoriam Segment? While more than ever the Academy discouraged applause during the depressing annual segment honoring the film industry notables who've died in the past year—hence the lack of a true Applause-o-Meter this time around—we were crying foul about a few notable omissions from the weepy montage. Gee, pa, where was Andy Griffith? Before he played Sheriff Andy Taylor on his long-running sitcom, the Georgia native burned bright in Elia Kazan's A Face on the Crowd (1957), as a rube turned demagogue, and showed the comic timing he'd later display on the tube in the charming military laugher No Time for Sergeants (1958). Not to mention his latter-day turn as a lovable diner patron in 2007's Waitress. Not cool, Academy.
Less surprising omissions included Larry Hagman and Phyllis Diller, who, despite making movies, are most strongly associated with TV. The same goes for Richard Dawson, the Family Feud host who played the villain in 1987's The Running Man. More egregious were the absences of Ann Rutherford, who played one of Scarlett O'Hara's sisters in Gone With the Wind, Our Gang star Jack Hanlon, and Snakes on a Plane director David R. Ellis.
RELATED: Oscars 2013: See the Winners Here!
The Academy should consider itself lucky that they included Sans Soleil director Chris Marker, or we would have lost it.
2. Did Samuel L. Jackson skip over part of the teleprompter's banter when presenting Best Visual Effects? It's hard to tell if it was teleprompter problems or the awkwardness of having five Avengers stars presenting two awards—for Cinematography and Visual Effects—but Marvel's Nick Fury got especially tripped up. After awkwardly getting through the cinematography award, Jackson jumped over most of the banter for Visual Effects just to announce the winner, while Robert Downey Jr. tried to stick to the script. Maybe Jackson was worried about getting played off with the Jaws theme—understandable considering his battle with sharks in Deep Blue Sea. Since no other presenters deviated from their sometimes lengthy scripts, despite the bloated runtime of the telecast, it seems Jackson made this decision without prompting from the producers.
RELATED: Oscars: 10 Best Dressed on Red Carpet!
3. The sound editors for Zero Dark Thirty and Skyfall both won in their category. How many previous ties have there been in Oscars history? There have been five previous tie winners, but none since the 1995 ceremony. In 1932, The Champ's Wallace Beery and Dr. Jekyl & Mr. Hyde's Frederic March tied for Best Actor, because of a rule that allowed two people to share a prize if only one vote separated them. Beery received just one extra vote than March, so both took home statuettes. Under today's rules, Beery would have been the sole winner.
RELATED: Anne Hathaway: Worst Dressed Ever?
At the 1950 ceremony there was a tie in the Best Documentary Short Subject category, and in 1987 there was a tie for Documentary Feature with Artie Shaw: Time is All You've Got and Down and Out in America scoring the same number of votes. In 1995, Best Live Action Short film was split between Franz Kafka's It's a Wonderful Life and Trevor.
But the most famous Oscar tie of all occurred in 1969 when both Katharine Hepburn and Barbra Streisand walked away with Best Actress for their roles in The Lion in Winter and Funny Girl, respectively.
4. Where did the 2013 ceremony rank among the all-time longest? Actually, not that high. At three hours and 35 minutes it was the longest telecast since…2010, when The Hurt Locker won best picture at the end of a three hour and 37 minute broadcast. That's still well short of the longest Oscars ever, the four-hour 23-minute sprawl that was the 2002 Awards hosted by Whoopi Goldberg. The fastest ceremony ever? The 1956 fete that lasted only a brisk 90 minutes.
NEXT: What's up with Seth MacFarlane's dig at Entertainment Weekly? And just who is Steve Battaglio?
5. What is Seth MacFarlane's beef with Entertainment Weekly magazine? At the end of his opening monologue, in which Captain Kirk's intervention had repaired the timeline and prevented MacFarlane from being declared the "worst Oscar host of all time," a new headline appeared onscreen that said "Best Oscars ever, says everyone except Entertainment Weekly."
Why such a pointed dig? Well, it all goes back to April 9, 1999 when EW's TV critic Ken Tucker published a review of Family Guy. He gave the new show a "D" and never warmed to it thereafter. In the 2005 direct-to-DVD movie Stewie Griffin: The Untold Story, the baby breaks the neck of a reporter the moment he learns he's from Entertainment Weekly. Perhaps I should consider myself lucky then that I emerged with my hide after interviewing MacFarlane in 2011 for EW, after he hosted The Comedy Central Roast of Donald Trump. His first words to me: "You're from EW, huh? Have you fired Ken Tucker yet? Have you guys gotten rid of him yet?" Then on Jan. 13, 2013, he launched a Twitter war with Tucker, in which he said "Dear Ken Tucker and Entertainment Weekly: Please tell me how I may earn a review as glowing as the one you gave Urkel," and linked to Tucker's "A" review of Family Matters from 1990. Tucker tweeted back, "Easy: Just be as funny as Urkel once was." Though the glossy magazine gave MacFarlane a major cover story just two weeks before the Oscars—not to mention that Tucker has left the publication—that faux headline during the ceremony shows he's still holding a grudge.
RELATED: Ranking All 84 Best Picture Oscar Winners From Worst to Best
6. Who is Steve Battaglio? All of the fake headlines during that Captain Kirk segment were attributed to a writer named Steve Battaglio. No invention of MacFarlane's feverish brain, Battaglio is actually the business editor at TV Guide Magazine, a publication for which MacFarlane seems to have greater affection than EW. TV Guide's LA bureau chief Michael Schneider tweeted, "Seth MacFarlane picked @SteveBattaglio as the author of that nasty review as thanks – Steve was an early supporter of #FamilyGuy."
RELATED: 20 Best (and Worst) Oscar Speeches Ever
7. How Does Captain Kirk's Appearance at the Oscars Fit Into or Disrupt J.J. Abrams' Rebooted Star Trek Continuity? Along with the realization that this is the first time we've seen William Shatner in the captain's chair since 1994's Star Trek: Generations comes the sorry recognition that we have to refer to his version of the character as "Kirk Prime," since he fits into the old Trek continuity that was almost entirely erased by J.J. Abrams' 2009 film. Unlike Chris Pine's Kirk, Shatner's didn't lose his father at the moment of his birth but was raised in a loving two-parent family, meaning that he has so few psychological issues to unpack that he can risk time-traveling to 2013 just to prevent Seth MacFarlane from being deemed the all-time worst Oscar host. Wait…or maybe this means this version of the character has even more issues than Pine's. Then again maybe by traveling back through time, Kirk Prime erased the alternate history of Abrams' franchise, throwing the upcoming Star Trek Into Darkness into a third timeline—like Fringe! None of this addresses, though, why MacFarlane didn't warn Kirk that he will be crushed by a bridge. That's one do-over we really want to see.
NEXT: Are the Malfoys now Oscar winners? Take our quiz!
8. Which barber-free Oscar winner/Malfoy relative is which? These three guys are Claudio Miranda (Best Cinematography, Life of Pi), Paul N.J. Ottosson (Best Sound Editing, Zero Dark Thirty), and Per Hallberg (Best Sound Editing, Skyfall), but not in that order in the photo above. Try to match them up, then find out which one is which in the answers at the bottom of this post.
9. Were the technical nominees playing musical chairs during the broadcast? It sure seemed that way, huh? Seats were designated along the sides of the Dolby Theatre in which to place the technical nominees (for Cinematography, Sound Mixing, Sound Editing, Makeup, Art Direction, Visual Effects, Costume Design, Film Editing) a couple minutes before the presentation of each category. That way, there wouldn't be such a long delay as the winners march up to the stage. A good idea as a time-saving measure. Too bad this show was still 20 minutes longer than those in 2011 and 2012.
RELATED: 15 Oscar-Winning Nude Scenes
10. Is there precedent for someone from the White House crashing Hollywood's biggest night? GOPers were crying foul on Twitter after Michelle Obama read the winner of Best Picture via satellite from the White House. They should note, though, that this is not the first time someone from Washington has been involved. Ronald Reagan recorded an address for the 1981 Oscar ceremony, shortly after taking office. And in 2002 Laura Bush also taped a segment for the first Academy Awards after 9/11.
What else about the Oscar ceremony left you scratching your head?
Answers to the Long-Haired Winners Quiz:
Oscar Victor on Left: Paul N. J. Ottosson, Sound Editor, Zero Dark Thirty
Oscar Victor in Center: Per Hallberg, Co-Sound Editor, Skyfall
Oscar Victor on Right: Claudio Miranda, Cinematographer, Life of Pi
Follow Christian Blauvelt on Twitter @Ctblauvelt
[Photo Credits: Kevin Winter/Getty Images (3); Robyn Beck/Getty Images; Pascal Le Segretain/Getty Images]
---
Oscars 2013 Special Coverage
---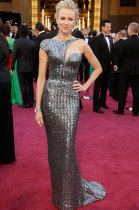 Oscars 2013 Best Dressed: PICS!
• Anne Hathaway: Oscar's Worst Dressed?
• Seth MacFarlane's Opening: How'd He Do?
• Adele's Performance Gets Mixed Reviews
• 15 Oscar-Winning Nude Scenes
• What Happened to Renee Zellweger's Face?
• Oscars 2013: The Full Winners List
• Why Kristen Stewart Was on Crutches