Oscars: Captain Kirk Beams In. A Violation of the Temporal Prime Directive?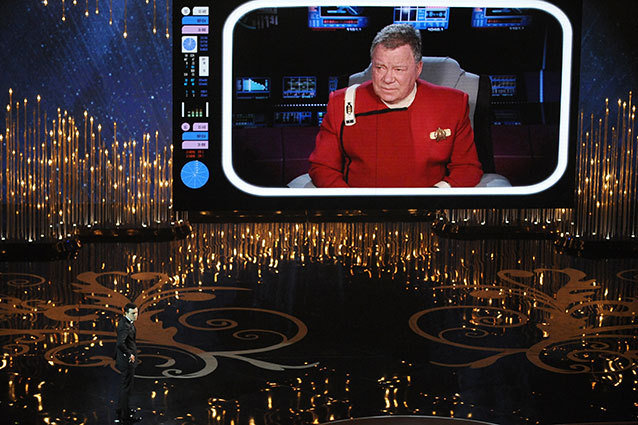 In the 23rd century everything's more advanced, including comedy. Maybe that's why Captain James T. Kirk felt it necessary to travel back in time to the primitive year 2013 to give Seth MacFarlane some hosting tips for the Oscars.
Apparently, our friends from 280 years from now had deemed the Family Guy creator's monologue so bad, they labeled him the worst Academy Awards host in history. But before James Franco and Anne Hathaway could breathe their respective sighs of relief, Kirk intervened to change the timeline by showing MacFarlane what he should avoid doing at all cost. Namely, singing a song calling out the movies in which the Oscars' assembled actresses bared their wares. Oh, and then staging a sock puppet reenactment of Flight, which we suspect actually was better than Flight. MacFarlane quickly course corrected and sang over an elegant Astaire/Rogers-style dance number featuring Charlize Theron and Channing Tatum, and a soft shoe with Joseph Gordon-Levitt and Daniel Radcliffe.
What's not clear are the repercussions Captain Kirk will suffer for this gross breach of the Temporal Prime Directive. That is, you're not supposed to go back in time to change history. For any reason. I mean, even when he went back in time to 1986 to rescue a couple humpback whales to save the world, he was still demoted from Admiral to Captain.
RELATED: Oscars Red Carpet Arrivals: See the Pics!
By my reckoning this is the first time we've seen William Shatner don his iconic red uniform from the Star Trek movies since 1994's Star Trek Generations. That was a sorry affair, in which our belovedly emphatic, space-babe-cuddling captain was killed off. Even worse, he died after being crushed by a bridge. To me, this appearance was a much-needed palate cleanser. And it's also likely that this may be the last time we'll ever see him in the uniform since J.J. Abrams has made it pretty clear he has no interest in using him for his rebooted franchise.
What did you think of the Oscars' boldly opening with Shatner as a veritable co-host for MacFarlane?
Follow Christian Blauvelt on Twitter @Ctblauvelt
[Photo Credit: Robyn Beck/AFP/Getty Images]
---
Oscars 2013 Special Coverage
---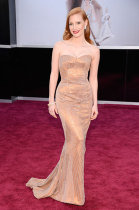 Oscars 2013 Red Carpet Arrivals: PICS!
• Anne Hathaway: Oscar's Worst Dressed?
• 15 Oscar-Winning Nude Scenes
• The Worst Best Picture Winner Ever
• Oscar's Problem With Pretty Boys
• Why Stars Should Fear Seth MacFarlane
• Oscars 2013: The Full Winners List
• The Winner, According to You

---
From Our Partners:


25 Most Scandalous Celeb Twitpics (Vh1)


33 Child Stars: Where Are They Now? (Celebuzz)