Oscars 2013: Seth MacFarlane's 10 Best Jokes of the Night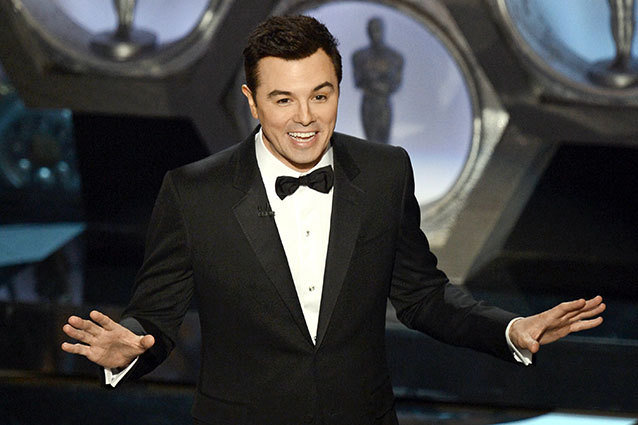 It's a good thing Seth MacFarlane brought his A-Game Sunday night because the winners' speeches certainly didn't serve up much in the way of "memorable moments." Sure, we liked Christopher Plummer saying that he hoped the nominated actresses in the Dolby Theatre "will appear in some of my next 30 movies." And Daniel Day-Lewis revealing the bombshell that he was in the running to play Margaret Thatcher in The Iron Lady before that interloper Meryl Streep beat him for the part. But it was the Family Guy creator's night — for better or worse. Here are Top 10 picks for his jokes that tickled our funny bones the most.
RELATED: Oscars 2013: See the Winners Here!
10. "A lot of controversy about the use of the N-word in the film. I'm told the screenplay is based on Mel Gibson's voicemail."—Referring to Django Unchained.
9. "First time I saw him [Ben Affleck] with all that dark facial hair I thought, my god, the Kardashians have finally made the jump to film."
8. "She [Jennifer Lawrence] told me whether she wins or loses, she told me it's just an honor that Meryl Streep wasn't nominated."
7. "This is a story about a man fighting to get back his woman who has been subjected to unspeakable violence. Or as Chris Brown and Rihanna call it, a date movie." –Referring to Django Unchained
6. "It's Sunday, everybody's dressed up. This is like church, only with more people praying."
5. "It'll be 16 years till she's too old for George Clooney." –About 9-year-old Beasts of the Southern Wild Best Actress nominee Quvenzhané Wallis.
4. "The quest to make Tommy Lee Jones laugh starts now."
3. "Tonight's ceremony is being watched by over a billion people worldwide. Which is why Jodie Foster will be up here later to ask for her privacy." –Referring to Foster's Golden Globes speech.
2. "Daniel Day-Lewis got so into character [as Lincoln] that when he saw Don Cheadle he tried to free him."
1. "I would argue that the actor that really got inside Lincoln's head was John Wilkes Booth."
Which joke was your favorite?
Follow Christian Blauvelt on Twitter @Ctblauvelt
[Photo Credit: Kevin Winter/Getty Images]
---
Oscars 2013 Special Coverage
---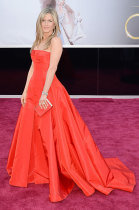 Oscars 2013 Red Carpet Arrivals: PICS!
• Anne Hathaway: Oscar's Worst Dressed?
• 15 Oscar-Winning Nude Scenes
• Seth MacFarlane's Opening: How'd He Do?
• Oscar's Problem With Pretty Boys
• What Happened to Renee Zellweger's Face?
• Oscars 2013: The Full Winners List
• The Winner, According to You
---
From Our Partners:


40 Most Revealing See-Through Red Carpet Looks (Vh1)


33 Child Stars: Where Are They Now? (Celebuzz)