'Parenthood' Finale: Was This Goodbye or See You Later?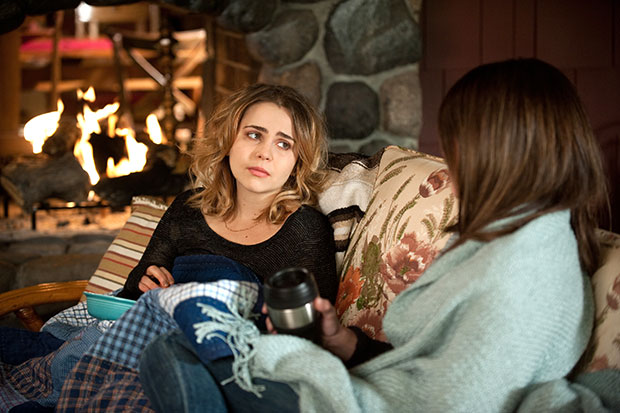 Whether or not Parenthood comes back next season (NBC chief Bob Greenblatt said earlier this month that the network is "hopeful" for its return, and oh man, so am I) the writers of the beloved little-series-that-should certainly covered their bases and treated the Season 4 finale like a series finale. You know, just in case. 
Now, whether or not this was a full-fledged goodbye to the tight-knit Braverman clan (the last moments felt awfully reminiscent of Jason Katims' other beloved, underrated series Friday Night Lights' send-off) or just a see you later, loose ends were tied up, lovers were reunited, and happy news was shared. Here's how it all went down and — worst case scenario, if this is it — if it was a satisfying farewell. Let's break it down, Braverman by Braverman. 
Kristina and Adam: My goodness, is there a more adorable husband on TV right now than Adam Braverman? Always by Kristina's side during her cancer treatments, and then surprising her with a much-deserved trip to Hawaii, he's quickly climbed the ranks in the Katims Husband Hall of Fame. (Coach Taylor is still No. 1.) Of course, the best thing to happen to Kristina and Adam last night was the wonderful news that she was, at long last, cancer-free. Happy ugly cries for all! And listen up, Emmy voters, just in case this show doesn't come back doesn't mean you can have short-term memory loss about Monica Potter's brave, brilliant performance this year. 
Jasmine and Crosby: The intrusive mother-in-law storyline lost steam about two weeks ago, but things were finally patched up between the three (c'mon, this is the Bravermans, like they could ever hold a grudge) when Jasmine and Crosby announced Jabbar would soon have a little brother or sister. D'aww. 
Joel and Julia: If anybody deserved to be cut a break this season, it was these two. It was bad enough they had a terrible biological child (Syndey, look around you. What could possibly be your damage in these surroundings?), but then they got placed with a terrible foster child (Victor, look around you. What could possibly be your damage in those surroundings?). While Sydney seems like a lost cause, Victor magically got his act together, wanted to be adopted and started calling them Mom and Dad by episode's end. Sappy and rushed? Sure. But, at least if the show comes back next year we'll all be able to put up with Victor. 
Sarah and Mark and Hank: Ugh, Sarah. I mean, I guess every family needs an illogical, self-destructive screw-up. And now that Crosby has his act together, Sarah can take the ranks. But, still, ugh. Who picks the human equivalent of Droopy Dog and looks like Ray Romano over the sweet, sensitive, safe, forgiving, handsome guy who looks like Jason Ritter? Sarah, that's who. Mark was willing to take her back after all the Hank drama, but she still picked Hank. This despite the fact that he's a total Debbie Downer, with baggage to boot. Unbeknownst that he is the chosen one, Hank drops the bomb on Sarah that he's moving to be near his daughter, and invites Sarah to come along. We don't know what Sarah winds up doing, but if she ends up alone, it sorta serves her right. Team Mr. Cyr. 
Amber and Ryan: At least Sarah's daughter has begun to make wise romantic choices as she's gotten older. The adorable couple (Mae Whitman and Matt Lauria are a match made in TV heaven) had a tearful reunion that paid off in a big way. Come on Season 5, we need another wedding! 
Drew: Aw, Drew. The poor kid barely gets cut a break on this show, let alone paid any attention by the writers (or his relatives). The kid needed some good news thrown his way (especially after the trauma he experience when he and his girlfriend Amy had an abortion) and got it when he found out he was accepted to Berkeley. And hey, you got way more airtime last night than Zeke, Camille, and Max combined. Drew Holt!
See you soon, Bravermans. If not for a new season, then at least revisiting you with DVD marathons. Until then, thanks for all laughs, the memories, and so, so, so many tears. 
[Photo credit: NBC] 
More: 

Child Stars: Where Are They Now? (Celebuzz)